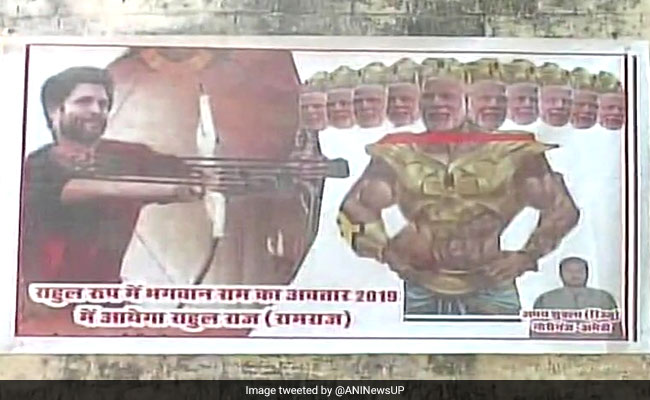 Lucknow:
Much before Rahul Gandhi's was set to make first trip to his parliamentary constituency as the Congress president on Monday, posters eulogising him as an incarnation of Lord Rama slaying Prime Minister Narendra Modi, portrayed as the ten-headed demon king Ravan, appeared at various places in Uttar Pradesh's Amethi district.
The posters go on to say that Rahul Gandhi will usher in
Ram Rajya
in the country and will end the "misrule of the Bharatiya Janata Party (BJP)". Behind the posters is a local Congressman, Abhay Shukla.
District Congress leaders told IANS that though the posters were not "official", they found nothing objectionable in them.
"People and voters have their own way of fantasising about their leader," chuckled one who believed Rahul Gandhi will boot out the Modi-led NDA government at the centre in 2019.
Rahul Gandhi arrived in his parliamentary constituency around noon and took part in a road show that will stop over at seven prominent points of Amethi.
The Congress president will meet people from his constituency and local party workers on Tuesday morning after which he will also visit Mohanganj, Jagdishpur and Jais.