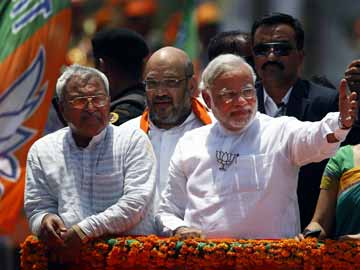 New Delhi:
After it was censured strongly by its own allies, the Congress has reportedly abandoned plans to appoint, in its last few days in power, a judge who will determine whether
Narendra Modi
allegedly ordered the surveillance of a young woman architect.
Mr Modi is the BJP's prime ministerial candidate and is expected to lead his party to the maximum seats in this election. Over the weekend, Congress partners like Omar Abdullah and Sharad Pawar attacked it for making an important appointment the "dying days" of UPA2. (
Read more...
) The criticism echoed that of the BJP's, which has said that once elections are called, the government has no right to decide important posts.
Law Minister Kapil Sibal had said on Friday that the government would select a judge by May 16, when results for the elections will be counted. (
Snoopgate: Will Appoint Judge Before Votes are Counted, Says Government
)
The Congress says it is entitled to follow through with the appointment of a judge to look at the charges against Mr Modi because it is acting on a cabinet decision taken months ago.
The BJP has also objected to those plans on the grounds that the Gujarat government has already tasked a judge to look at the allegations against its top leader. (
Amit Shah Slams Government Move on 'Snoopgate' Probe
)
Audio tapes released by an investigate news website last year allegedly reveal Mr Modi's former Home Minister, Amit Shah, ordering the Gujarat police to spy on a young woman at the request of Mr Modi, who is serving his fourth term as Chief Minister.
The BJP says the woman was aware that her family had requested her surveillance because it had concerns about her security. The woman's family has testified to this in a letter sent to the National Commission for Women; it also urged against an investigation, alleging that it would violate her privacy.
In its campaign, the Congress has used "Snoop-gate" to accuse Mr Modi of double-speak on the issue of women's safety. Last week, Home Minister Sushil Kumar Shinde said,"As Chief Minister, he (Modi) was snooping on women. So what will happen to our women if he becomes PM?" (
Watch: Shinde on Snoopgate probe
)