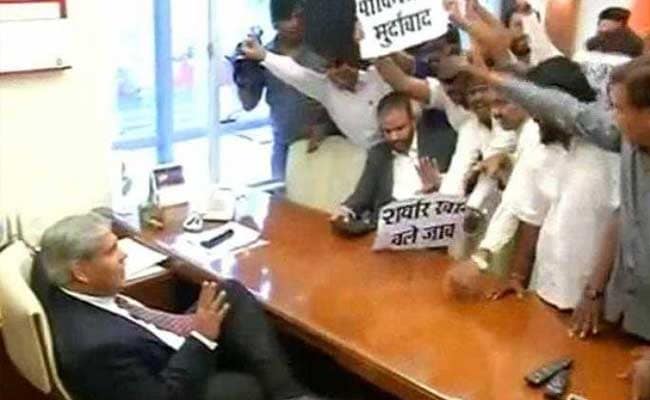 New Delhi/Mumbai:
The storming of BCCI headquarters in Mumbai by protesting Shiv Sena workers over the issue of resumption of cricket ties with Pakistan today sparked condemnation with ally BJP saying there is no place for "hooliganism" while Congress called it "abominable".
"We are a democratic nation and everyone has the right to protest on any issue in a democratic manner. But there is a difference between a democratic way and hoologanism. No one accepts such kind of protest," Union minister Mukhtar Abbas Naqvi said.
This protest came close on the heels of Pakistani singer, Ghulam Ali cancelling his concert in Mumbai, and ink being thrown on Sudheendra Kulkarni for hosting the book launch of a former Pakistani foreign minister.
Congress leader Manish Tewari said, "It is extremely unfortunate... This is extremely abominable. Law and order has completely broken down in Maharashtra. The President of India should take cognisance of this."
Nationalist Congress Party leader, Rahul Narvekar said Sena has been involved in such activities since very long. "This is not how you express your resentment to a particular thought. You adopt constitutional measures which are available with you," he said.
Justifying the protest by party workers, Shiv Sena lawmaker, Sanjay Raut said, "We have not committed any crime by protesting. We are opposing Pakistan and our stand against them is nothing new. This is not a political protest. We are only doing what is the feeling of the people of this country, because feelings of people are important to us."
"If anyone tries to build relations with Pakistan through the medium of cricket, we will not let that happen and will not compromise on our stand. The BJP now needs to come forward and support us on this issue," Mr Raut said.