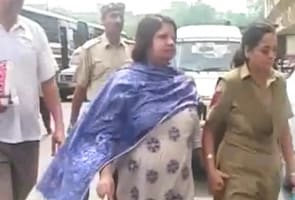 New Delhi:
The Delhi Police has asked for a 14-year jail sentence for Madhuri Gupta, a diplomat who was convicted of spying for Pakistan during her posting to Islamabad.
In January, Ms Gupta was sentenced to three years in jail by a trial court in Delhi.
The Delhi Police wants the Delhi High Court to sanction the framing of charges against Ms Gupta under a section of the Officials Secret Act that carries a tougher penalty than that applied against her by the trial court. Ms Gupta, who is 55, was arrested in April 2010 and spent 21 months in jail before she was granted bail in January.
In its appeal to the Delhi High Court, the police says the information passed by Ms Gupta to her Pakistani links through e-mails pertained to the country's defence and compromised national security.
The trial court had not taken this into consideration, the police says.
The judge hearing the case has sought Ms Gupta's response by September 24; she is currently on bail.
She was posted as Second Secretary (Press and Information) at the Indian High Commission in Islamabad.
According to the charge sheet filed in July 2010 against her, Ms Gupta revealed certain classified information to Pakistani officials and was in touch with two ISI officials. It added that she was involved romantically with one of them, and had planned to marry him.
The chargesheet said the diplomat used a computer installed at her residence in Islamabad and a Blackberry phone to be in touch with the two Pakistani spies.
Ms Gupta, however, says she is innocent.