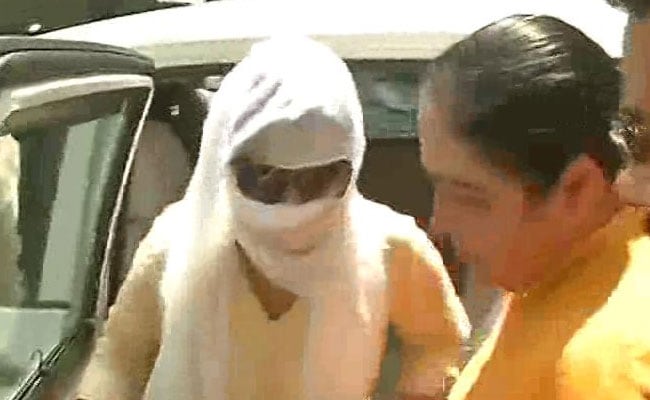 New Delhi:
The Delhi Police on Wednesday raided the Indirapuram residence of a 40-year-old woman, who was arrested earlier for allegedly honey-trapping and blackmailing a BJP MP for Rs 5 crore.
Some videos and other "incriminating evidence" were recovered from her house, said Mukesh Kumar Meena, Special Commissioner of Police, New Delhi range.
He added that the woman, hailing from Muzzafarnagar in Uttar Pradesh, would mostly target high-profile people.
Sources claimed that a police team had also been sent to Muzzafarnagar to check on her criminal antecedents and to ascertain whether her law degree was genuine or not.
The woman had filed a rape case against another MP at Tilak Marg police station last year. In 2014, she had filed a complaint at Safdarjung Enclave police station against BJP leader from Uttarakhand Harak Singh Rawat, who was then a minister in the Congress-led government in the state, said Mr Meena.
In Mr Rawat's case, the woman had subsequently changed her statement, he added.
The woman told the police that several men and women were involved in the racket, said another officer, adding that some of the gang members were identified while the police were trying to identify the others.
The core gang consists of five to six members, he said. KC Patel, the BJP MP from Gujarat's Valsad, had filed a police complaint last week, alleging that the woman had drugged him and shot obscene videos of him.
The woman had approached a city court, claiming that the police refused to lodge her complaint, accusing Mr Patel of rape.
The woman came to Delhi around five years back. In her statement, she has said that she came to Delhi to prepare for the Rajasthan Public Service examination. As per the statement, she had even appeared in the preliminary exams of the UPSC, but couldn't clear them.
In Mr Patel's case, the woman claimed that the MP had called her. However, Mr Patel told the police that she had approached him for some help.
According to the investigators, the woman had installed spy cameras and CCTV cameras in her house and the gang had bugged the room where Mr Patel was taken.
The woman always kept a spy camera in her bag, they said.