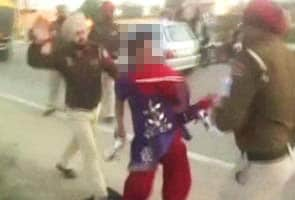 Tarn Taran:
The Punjab government has suspended two policemen and ordered a magisterial inquiry into the incident where a young woman was brutally beaten up by policemen in Tarn Taran near Amritsar. After the visuals, captured by a man with a cellphone, aired on news channels, there was widespread support for the girl.
"I was shattered.... this is what police does. They beat my father, brother and me.... what was our fault? I want they should be dismissed and case registered against them," she told NDTV.
The issue has triggered a political storm and the Opposition Congress has opened a new front against the ruling Shiromani Akali Dal (SAD)-BJP alliance, targeting it on law and order. Even National Commission for Women (NCW) has sought action taken report from Punjab Police.
"There is lawlessness in police. The government has failed, and police here is acting like Taliban," said Congress leader Sunil Jhakkar.
The woman alleges she was harassed by some drivers outside the venue of a wedding which she and her family were attending. When she complained about this to her family members, her father and brother confronted the drivers. The woman says the policemen who arrived at the scene started beating her and her father and brother. The police, however, claims the woman's father and brother attacked the constables in a drunken state and they retaliated.
Though the police is now saying that an inquiry is on and guilty will be dealt with sternly, the state's top cop today said girl and her family members were aggressive and cops may have reacted to it.
"They also have their point of view. The fight was between two groups and police had responded to that. There are different versions to the incident. We are examining them," said Sumed Singh Saini, Director General of Police, Punjab.
He, however, added, "Whatever the provocation, it was wrong to beat up a woman."
The Congress is now planning to target the ruling alliance in the coming session of the Assembly beginning on March 11.