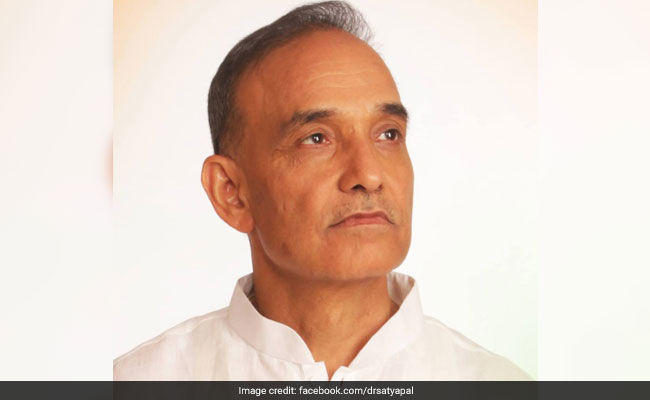 New Delhi:
Junior Education minister Satyapal Singh's statement questioning the evolutionary theory of Charles Darwin has been sharply criticized by influential voices from the scientific community, including a former president of INSA (the Indian National Science Academy) the top body of scientists in the country. Minister Satyapal Singh has said Darwin's theory was "scientifically wrong" since there are no witnesses to humans evolving from apes and it should be removed from science books.
Today, Raghavendra Gadagkar, the former president of INSA, told NDTV it was "politically polarising science and scientists" which is "the real danger we must guard against".
On basis of facts, the statement is untenable at many levels, said the Professor of Ecology and Evolutionary Sciences at the Indian Institute of Science. "At the most elementary level, all evidence indicates that humans diverged from our closest living relative (the chimpanzees) about 5 million years ago. Therefore our ancestors did not have the privilege of witnessing the event and recording it in their scriptures," he added.
Biocon chief Kiran Mazumdar Shaw also strongly criticized the minister's statement, saying it is an "insult" to his office and to science and scientists.
"For a junior minister from Ministry of Human Resource Development to make this statement is troubling. It's an insult to his office," said Ms Shaw, one of the pioneers of bio-technology research who founded the Bengaluru-based pharma giant. The minister "has insulted scientists and the scientific community across the world. As a biologist I don't know what to say," added Ms Shaw, who has been named by Time Magazine as one of the 100 most influential people in the world.
Former environment minister, Congress's Jairam Ramesh, has dismissed Satyapal Singh's comment as "nonsense". "The BJP is the fountainhead of scientific nonsense and obscurantism. Not the first time this gentleman has come up with an outlandish statement... Of course, the Prime Minister is simply not bothered," said Mr Ramesh, who holds degrees from Mumbai's Indian Institute of Technology, the prestigious MIT (Massachusetts Institute of Technology) and the Carnegie Mellon University, a technical research institute in Pennsylvania.
Satyapal Singh is standing by his statement, saying he is also a "man of science" and Darwin's statement "is being challenged the world over now". "Darwinism is a myth... If I'm making a statement I can't make it without a basis," the minister told NDTV. "I'm not coming from Arts background... I have completed my PhD in Chemistry from Delhi University," the minister added.