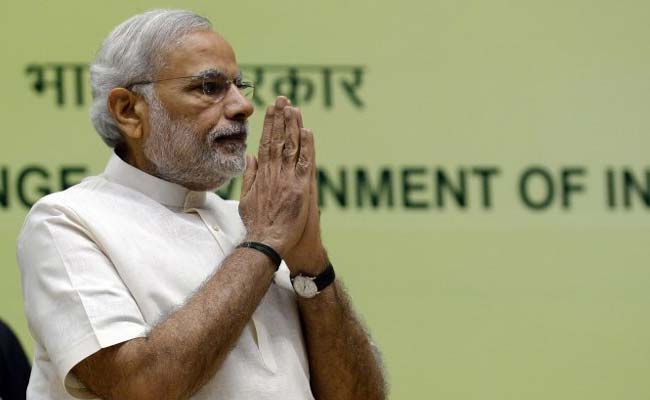 New Delhi:
Prime Minister Narendra Modi will take his push to turn thriving India into a major manufacturing and investment hub to the eurozone's two biggest economies this week on his maiden visit to the continent.

Mr Modi flies out Thursday to France, whose government is desperate to save a troubled $12 billion defence deal, before heading to Germany to inaugurate one of the world's biggest trade fairs.

He will also visit Canada at the end of the three-nation trip, home to a large Indian diaspora.

Officials said that in France, PM Modi will seek greater French involvement in his Make in India Programme, including in the defence manufacturing sector.

Mr Modi launched the "Make in India" campaign last year as the centrepiece of a project to rewrite the country's reputation as a tricky place to do business in, beset by bureaucracy, corruption and a stringent tax regime.

The government has already relaxed rules for foreign investors, eager to create work for the millions who enter India's jobs market each year.

But the continued uncertainty over a deal for India to buy 126 Rafale fighter jets from the French company Dassault Aviation is seen as symptomatic of the challenges confronting foreign companies.


Dassault won the right in 2012 to enter exclusive negotiations to supply the jets, with experts saying a final deal could be worth $12 billion.
But after negotiations lasting for over three years, there are now new questions about its cost, although Dassault's boss Eric Trappier recently insisted the deal was "95 percent finalised".
French President Francois Hollande confirmed to reporters on Tuesday that he and Mr Modi "will have discussions" about the Rafale deal while stressing he didn't want the issue to define their relationship.
There are also hopes the visit will provide a shot in the arm to another delayed deal with French nuclear giant Areva, still awaiting the go-ahead to set up six reactors in Maharashtra, five years after a bilateral civil nuclear accord.
"It is really good if it happens during this visit. If not, it will happen later," French Ambassador Francois Richier said in Delhi Tuesday.
After his three-day visit to France, Mr Modi heads to Germany, where he and Chancellor Angela Merkel will jointly inaugurate the giant Hannover Messe trade fair on Sunday.
Germany is India's largest trading partner in the European Union, with bilateral trade amounting to some 16 billion euros in 2014.