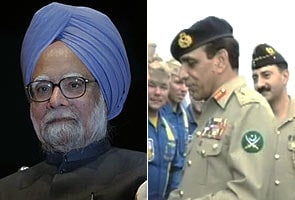 New Delhi:
The Prime Minister's Office (PMO) has denied reports in the British media claiming that Dr Manmohan Singh had initiated a back channel exercise before the Mohali meeting with Pakistan Prime Minister Yousuf Raza Gilani.
"We have seen media reports quoting a British newspaper saying that Prime Minister Manmohan Singh contacted Pakistan Army chief General Ashfaq Parvez Kayani before the Mohali meeting between the two Prime Ministers. The report is false," Prime Minister's media adviser Harish Khare said in a statement.
London-based
The Times
had reported yesterday that The Prime Minister Dr Manmohan Singh appointed an "unofficial envoy" to make contact with Pakistan's Army chief General Ashfaq Parvez Kayani in a bid to take on board the man who exercises de facto control over Pakistan's foreign policy.
The Times
report goes on to say that the talks between the Indian envoy and Kayani through a back channel have encouraged the UK and US which are keen to see a resolution of the conflict between the two countries.
The visit of Pakistan Prime Minister Yousuf Raza Gilani to watch the semi-final match between India and Pakistan in the cricket World Cup last month has sparked hope of a diplomatic thaw between the two neighbouring countries.
Kayani visited Kabul this week to meet members of the High Peace Council, a body set up by Afghan President Hamid Karzai, to build contacts with Taliban groups.
The Pakistan army chief was accompanied by General Ahmad Shuja Pasha, head of Pakistan's powerful Inter-Services Intelligence agency.
(
With PTI Inputs
)