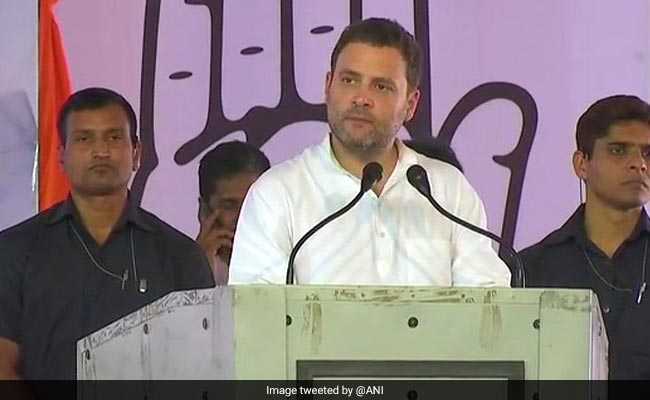 New Delhi:
Congress president Rahul Gandhi today intensified his attack on the Narendra Modi government on the Rafale fighter jet deal, alleging it was the "biggest issue" of corruption in the country now and that the deal took "away the future of its youth from Bangalore".
Launching his party campaign at Hosapete in poll-bound Karnataka's Ballari district, Rahul Gandhi alleged that Prime Minister Narendra Modi had "personally" changed the contract during his visit to France to give it to a "friend", and said that he had not answered the three questions posed by him on the deal.
"Today Rafale aircraft is the biggest issue of corruption in the country. I want to tell you a few things about this," he said launching "Janashirvad Yatra" of the ruling Congress in the state.
"Modiji had gone to Paris in France. In France Modiji personally changed the contract," Mr Gandhi said.
He said earlier that the Rafale contract was given to Bengaluru-based Hindustan Aeronautics Limited (HAL), a defence Public Sector Undertaking which has been making aircraft for the Indian Air Force for 70 years.
"If Bangalore is on its feet today, one of the reasons for it is HAL. Modiji took away Rafale contract from Bangalore and HAL and gave it to his friend," he said.
"We have asked three questions to Modi - Modiji on what basis did you give the contract to your friend after taking it away from HAL, for what reason? Why did you take away the future of its youth from Bangalore? Why did you do this to profit your friend?" he said.
"Second question, did the price of the aircraft increase or decrease in your new contract? Third question- when you took this decision in Paris and when India's defence minister was buying fish in Goa- did you take permission from the Cabinet Committee on Security? Yes or no?" Mr Gandhi said.
The Congress president said that PM Modi spoke for an hour in parliament on the motion of thanks to President Ram Nath Kovind for his address but did not utter a word about the Rafale deal.
In his speech, the Congress chief also accused the BJP-led central government of failing to deliver on its polls promise of generating jobs.
"Modiji speaks about corruption. The world record in corruption was broken by his party's government in Karnataka," he alleged referring to the BS Yeddyurappa rule in the state.
The BJP, which is going all out to unseat the Congress rule in the state, is projecting Mr Yeddyurappa, who had quit as chief minister on corruption charges, as its chief ministerial candidate.
On a four-day tour, Rahul Gandhi will cover Ballari, Koppal, Raichur, Kalaburagi and Bidar districts in north Karnataka, addressing public rallies, holding roadshows and interacting with farmers and others.