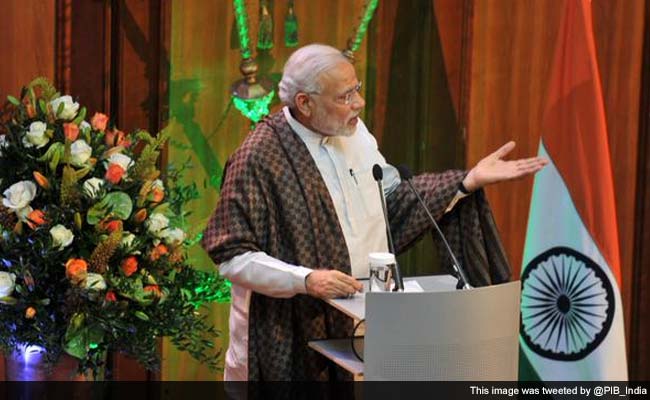 Berlin:
India's secularism is not weak and will not be shaken easily, said Prime Minister Narendra Modi in Germany, referring to his government's decision to replace German with Sanskrit as the third language in over 500 schools.

During his trip to Germany, PM Narendra Modi said that an emphasis on promoting Sanskrit does not equal as weakening of secularism. "India's secularism is not so weak so as to be shaken easily," he said, addressing a large gathering of Indians in Berlin.

His remarks appeared to resemble an earlier swipe at political opponents taken during his trip last year to Japan. The PM had said this his gifting of the Bhagvad Gita to the Japanese emperor was likely to outrage his critics who would claim that the choice of present was lacking the spirit of secularism.


"There was a time when German radio used to have a bulletin in Sanskrit," Mr Modi said, "but not in India...where there is such a storm over secularism that even Sanskrit has been roped into the controversy."
Last year, Mr Modi's government decided that Sanskrit must replace German as the third language in about 500 government-run Kendriya Vidyalayas, a move that was brought up at the time with the PM by German Chancellor Angela Merkel.
PM Modi's comment on India's secularism also comes in the wake of widespread concern over a series of attacks on churches and other Christian buildings over the last few months in India.
On Monday, at the world's largest trade fair in Hannover, which the PM inaugurated, top Indian industrialist Sanjay Kirloskar said the government must "send the right signal" and make clear that "we are a secular nation... we are a tolerant nation."
"Most investors in foreign countries are Christians," said Mr Kirloskar, noting that "a slight concern" was visible among foreign investors.
Before arriving in Germany, the PM, addressing UNESCO in France, said that his government is committed to defending the rights and liberties of all Indians.