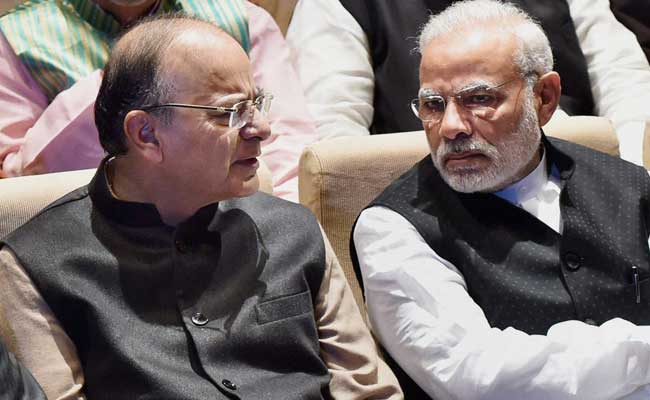 Highlights
Arun Jaitley dismisses opposition's front as anarchist formation
Arun Jaitley calls the group disparate political parties
Minister says the front will be rejected by an aspirational India
New Delhi:
From Karnataka to Uttar Pradesh, opposition parties have been on a high all of this week over renewed hopes of putting up a united front against the national coalition fronted by the BJP. On Saturday, Finance Minister Arun Jaitley sought to dismiss that optimism in opposition ranks, describing the proposed front as an "anarchist" formation of "disparate political parties". The front is a "fictional alternative" which would be rejected by an aspirational India, he said.
The political agenda for the debate this year appropriately will be Prime Minister "Modi versus an anarchist combination", Mr Jaitley said in a Facebook post on four years of Modi government.
"Some of their (opposition) leaders are temperamental, the others occasionally change ideological positions. With many of them, such as TMC, DMK, TDP, BSP and the JD(S), the BJP has had an opportunity to share power. They frequently change political positions" Mr Jaitley said, adding that "stable politics is far from their political track record."
Dismissing the idea of a "federal front", Mr Jaitley said "to rule a large country like India through coalitions is possible but the nucleus of a coalition has to be stable. It must have a large size, an ideologically defined position and a vested interest in honest governance."
Mr Jaitley made the stinging attack on the Congress that formed a last-minute alliance with the JDS in Karnataka to keep the BJP out of power, which despite being the single largest party lacked the majority number.
The Congress "is in desperation without the perks of office. Its best hope lies in becoming a supporter of regional political parties," Mr Jaitley said.
"From the dominant party of Indian politics, it is moving towards the 'fringe', its political positions are not of a mainstream party but one usually adopted by 'fringe' organisations. Fringe organisations can never hope to come in power," the minister's Facebook post noted.
The result in Karnataka has boosted enthusiasm among PM Modi's opponents to unite and try to defeat the BJP in the 2019 national elections. Karnataka chief minister
HD Kumaraswamy's oath ceremony was high on symbolism.
The swearing-in ceremony was the first joint public appearance by Uttar Pradesh's bitter rivals-turned-allies, Akhilesh Yadav and Dalit powerhouse Mayawati. The Mayawati-Akhilesh Yadav team in Uttar Pradesh and the Congress-JDS alliance in Karnataka stands for the kind of new friendships that the the opposition would like to form in the rest of the country.
The many photo-ops and the bonhomie
among the parties on stage, however, is no indicator that other rival non-BJP parties too will come together. West Bengal's Mamata Banerjee and CPM's Sitaram Yechury were there and at one awkward moment, even came face to face. They politely greeted each other, shook hands and walked away.