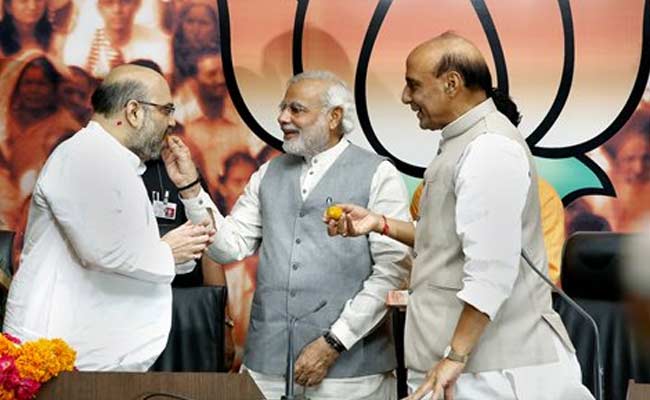 New Delhi:
Amit Shah
, Prime Minister Narendra Modi's closest associate, is the new BJP president. His appointment was announced today in Delhi by Rajnath Singh, the man he succeeds.
The ruling BJP is celebrating its new chief in many major cities but most of all in Ahmedabad in Gujarat; not only is the country's Prime Minister from that state, but now so is the BJP chief.
Rajnath Singh said he had resigned this morning as he is now the Union Home Minister in Mr Modi's government. He said Mr Shah was unanimously chosen as the new chief by members of the BJP's parliamentary board, a group of 12 top decision makers. (
Watch)
Prime Minister Modi, who sat between Mr Shah and Mr Singh as the latter made the announcement, later tweeted, "Amit Bhai started his journey as an ordinary Karyakarta & has repeatedly proven himself through tireless hardwork & determination."
The BJP's ideological mentor, the Rashtriya Swayamsevak Sangh or RSS, reportedly believes that giving Mr Modi a BJP president of his choice will ensure good coordination between the party and the government.
Mr Shah takes over with immediate effect. He had in May this year engineered a massive victory for the BJP in Uttar Pradesh, India's largest state, delivering 71 of the state's 80 parliamentary seats in the general elections. (
How Amit Shah Delivered Uttar Pradesh For the BJP)
The 50-year-old political strategist has his immediate task cut out - the party needs him to repeat the UP magic in assembly elections due this year in states like Maharashtra, Haryana and Jharkhand.
A big win in these states is crucial for the BJP to improve its numbers in the Rajya Sabha, where it is in a minority.
When Mr Modi was Gujarat Chief Minister, Mr Shah served as his Home Minister, and is his protege and confidant. He had to resign in 2010 over allegations that he sanctioned a fake encounter by the state police. He spent three months in jail and then was asked by a court to stay away from Gujarat for about two years. (
Gujarat minister Amit Shah resigns, Modi says Shah is not guilty)
He returned after the Supreme Court lifted the ban to contest the 2012 state elections successfully.
Mr Shah faces murder charges for allegedly allowing the extra-judicial killing of Sohrabuddin Sheikh, a small-time criminal, his wife and a witness. The BJP leader says the charges are a political conspiracy. Mr Singh said today, "There were baseless allegations against Sri Nitin Gadkari also but later he got a clean chit. Things will become clear. Let the investigation carry on."