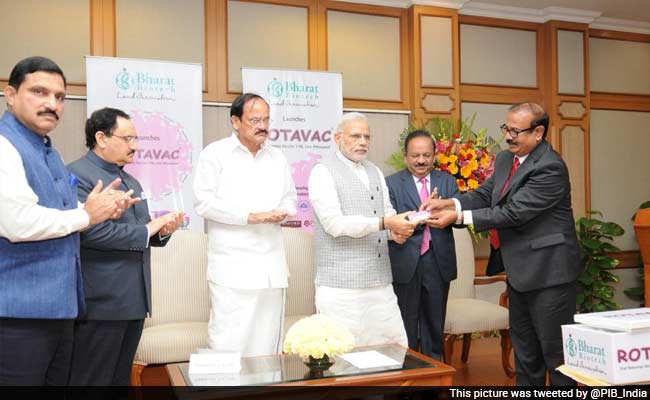 New Delhi/Hyderabad:
Prime Minister Narendra Modi on Monday launched Rotavirus vaccine Rotavac, developed by Hyderabad-based Bharat Biotech.

Billed as one of the first novel vaccines to be developed completely in the developing world, it is expected to help in significant reduction in infant deaths due to Rotavirus diarrhoea in India and other parts of the world.

Krishna Ella, chairman and managing director of Bharat Biotech, said they realised a dream by bringing out the first made in India molecule.


"We have also maintained our pledge to offer Rotavac for $1 to governments in low income countries. Our vaccine is affordable, safe and effective, besides being cross-protective against a variety of Rotavirus strains," he said
The biotech company invested over Rs.400 crore towards product development, and another Rs.100 crore towards manufacturing facilities.
The facility in Genome Valley in Hyderabad has an installed manufacturing capacity of 300 million doses per year, the company said in a statement.
It has taken 300 scientists and 15 years for successful for completion of the project, a partnership among the department of biotechnology, Bharat Biotech and several Indian and international organisations.
Foreign companies currently sell Rotavirus vaccines in India at Rs.1,100 per dose while Bharat Biotech proposed to sell Rotavac for Rs.63 per dose to the government of India and other low income countries.
Bharat Biotech has filed four global patents around the technology of Rotavac in more than 20 countries.
Rotavirus diarrhoea causes annually over 450,000 deaths worldwide, including 110,000 deaths in India.