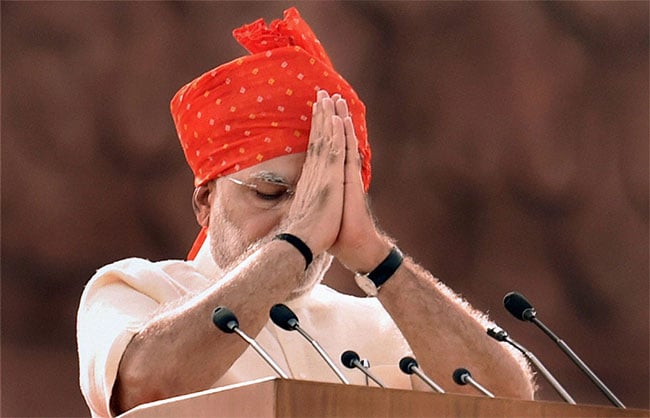 New Delhi:
Prime Minister
Narendra Modi
today greeted the nation in 18 Indian languages on the occasion of India's 68th Independence Day, and assured that no stone would be left unturned to fulfill the mandate given by the people.
In a first-of-its-kind move, the greeting message of the prime minister was shared in 18 languages, including Hindi and English, on the Press Information Bureau (PIB) website which disseminates government information to the media.
The message was shared on the PIB website's home page through a new feature - a green and orange-coloured box - representing the Indian Tricolour - which said "PM's greetings on Independence Day".
"The mandate of 2014 was a mandate for hope, good governance and to rebuild the trust. I assure the people that I will leave no stone unturned to fulfil the mandate given by the people of India. Our government has devoted every moment of our time to fulfill the mandate given to us," Mr Modi said in his message.
"I promise that the change expected through good governance will become a reality. We want India to progress and Indians to prosper."
Mr Modi's message was available in Malayalam, Urdu, Mizo, Odia, Nepali, Dogri, Kashmiri, Assamese, Konkani, Punjabi, Bengali, Tamil, Marathi, Kannada, Gujarati and Telugu.
The PM, who saluted the brave men and women who sacrificed their lives for India's freedom, said the great freedom fighters and martyrs always "remain in our hearts and minds".
"It is our duty to remember their heroic deeds and emulate their ideals for the good of our nation and our people," he said.
Stressing that growth and development are the way ahead, Mr Modi said good governance safeguards the rights of the poor and development gives the poor an opportunity to move ahead.
"Our fight is against poverty and I can say it with confidence that we will emerge victorious in this battle. Our victory against poverty will show the way to the entire world on how to free thousands of people from the clutches of poverty," Mr Modi said.
Earlier, the PM tweeted his message: "Greetings to my fellow Indians on Independence Day! May our tricolour fly high and our nation scale new heights of development. Jai Hind!"
Promising regular communication with the people, Mr Modi said: "Today, on Independence Day let every Indian pledge to do good deeds that will benefit our country, our countrymen, women and the weaker sections of society; a deed that will enhance the pride and prestige of our tricolour."