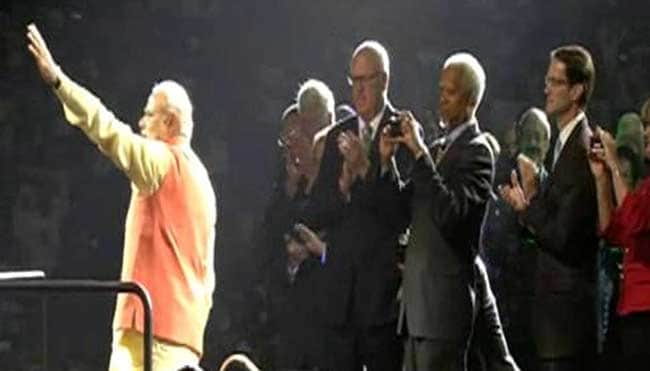 New York:
In a saffron Nehru jacket worn over a
yellow kurta
, Prime Minister Narendra Modi has arrived at New York's Madison Square Garden.
He walked up to the stage with hands folded and then waved to the capacity crowd of thousands of Indian Americans who have filled a venue that rock stars dream of packing with a sell-out audience. Chants of "Modi, Modi" that filled the air since the event began, reached a crescendo. (
Live updates
)
Above the stage, a massive banner reads
#ModiInAmerica
, followed by the words Unity, Action, Progress.
Before Mr Modi arrived an audio-visual presentation described Mr Modi as a leader with a "global vision, Indian soul." Bollywood was the theme as musicians and dancers performed.
A former Miss America of Indian origin Nina Davuluri and a popular news anchor Hari Sreenivasan are presenting the show.
Mr Modi is speaking from a rotating platform measuring 15 meters across. He will speak in Hindi, but is expected to make some remarks in English too, organizer, the Indian-American Community Foundation said.
The famous venue is home to the New York Knicks basketball team. It is where Beatle John Lennon played his last concert. Boxing legend Muhammad Ali fought his first bout against Joe Frazier there.
Those who could not book a place at the venue, will throng Times Square, where the Prime Minister's address will be broadcast on a giant screen. More than 30,000 people across the US had registered for free tickets to today's event; about 18,500 will be there.
The foundation bills it as one of the largest receptions ever held for a foreign head of state in the US. The event has cost 1.5 million dollars - the funds were raised by different groups of NRIs and Indian Americans. It is being seen as a sign of Mr Modi's appeal not just at home, but among the Indian diaspora as a leader who can tackle pervasive corruption and inefficiency, and revive the sluggish Indian economy.
It also reflects the growing clout of the 2.8 million Indian-Americans, one of the wealthiest diaspora communities in the US.