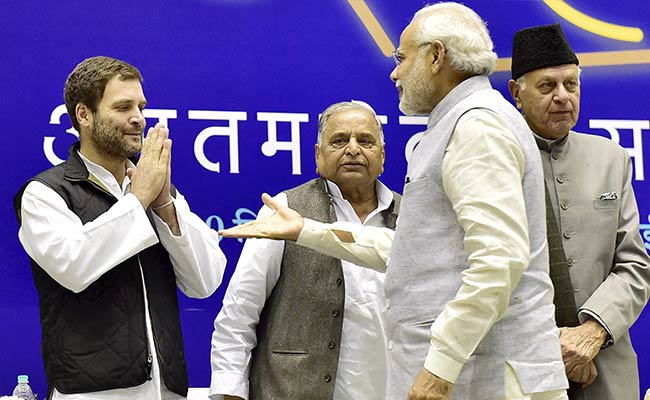 Mumbai:
With the Gujarat battle entering its final stages, Prime Minister Narendra Modi has finally acknowledged that Congress President-designate Rahul Gandhi is a "serious competitor", the Shiv Sena said on Wednesday, according to a report by news agency IANS.
Dismissed as a "Pappu" barely four years ago, Rahul Gandhi has now emerged as a leader in his own right and he is now the "man to watch" for the ruling BJP, the Shiv Sena said in its mouthpieces "Saamana" and "Dopahar Ka Saamana".
"Whatever be the outcome in Gujarat, after the recent results in Uttar Pradesh civic polls, it is suspected that the Electronic Voting Machines are the biggest strength of the BJP," the Shiv Sena accused.
"Yet, Rahul Gadhi has proved that he is no more a "Pappu" and the BJP must accept this magnanimously. There can be differences and fights over ideology which are settled by elections. But creating an atmosphere that 'nobody should oppose or stand against you in politics' is shocking. Under such gloomy circumstances, Rahul Gandhi is taking over as Congress President," stated the editorials.
Attacking its ally in Maharashtra and at the centre, the Shiv Sena said the BJP had started attacking and belittling Mr Gandhi's (expected) elevation as Congress President by labeling it as "Aurangzeb Raj" and it had raised a hue and cry over Mr Gandhi's temple visits.
"Instead, the BJP should have welcomed Mr Gandhi's temple trip, which signals a victory of the "pro-Hindutva" forces and now he can guide the Congress to adopt a "soft-Hindutva" line. The RSS should come forward and felicitate Rahul Gandhi for this step," the Shiv Sena suggested.
Attacking PM Modi for his "Aurangzeb Raj" jibes, the Shiv Sena countered, "If you have so much aversion to Mughals, then you should order Maharashtra Chief Minister Devendra Fadnavis to get the tombs of both Aurangzeb and Afzal demolished in this state."
"The "Mughal Raj" type of rule should be avoided by not only the Congress but by all other political parties. Rahul Gandhi faces a massive challenge to revitalize the crumbling Congress. What he will do in this direction, everybody will keep a watch," the Shiv Sena editorial stated.