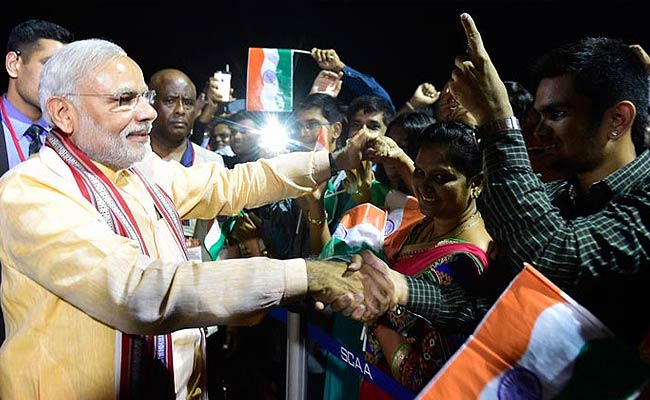 Victoria, Seychelles:
Prime Minister Narendra Modi today left the Seychelles capital for Mauritius on the second leg of his three-nation tour that will also take him to Sri Lanka.

The Prime Minister will meet Mauritius President Rajkeswur Purryag and Premier Anerood Jugnauth after arriving in the Mauritian capital Port Louis later today.

Mr Jugnauth will host a state banquet for PM Modi this evening.

PM Modi will be the chief guest at the Independence Day celebrations in Mauritius tomorrow - March 12.
"My visit to Mauritius will aim to strengthen our age-old civilisational ties with 'Chhota Bharat'. I am honoured to be invited to address the National Assembly of Mauritius," PM Modi had said in a pre-departure statement in New Delhi yesterday.

PM Modi will also participate in the joint commissioning of India-built Offshore Patrol Vessel Barracuda, and in the launch of construction works for the building of World Hindi Secretariat.

Earlier today, seeking to expand its footprint in the strategic Indian Ocean, India agreed to help Seychelles in mapping its hydrology reserves under four agreements signed during the visit.

PM Modi also launched a coastal surveillance radar project to boost security cooperation with the island nation.


The Prime Minister also announced that India will give a second Dronier aircraft to Seychelles. India will also provide free of cost visas to Seychelles citizens on arrival for three months following one-to-one and delegation-level talks with President James Alix Michel.
Meanwhile, the Prime Minister's visit to Sri Lanka from March 13 is seen as an opportunity to further strengthen all aspects of the bilateral relationship.
"I see this visit as an opportunity to further strengthen our relationship in all its dimensions - political, strategic, economic, cultural, and above all, people to people contacts," PM Modi had said.
PM Modi will attend a second summit in a month's time with President Maithripala Sirisena since the Sri Lankan leader's visit to India last month.
His trip to Sri Lanka will be the first standalone prime ministerial visit to the island nation since 1987.