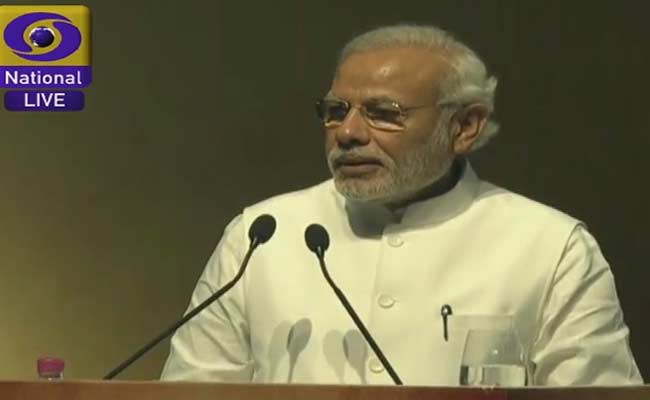 Gandhinagar, Gujarat:
Prime Minister Narendra Modi inaugurated this year's edition of the Pravasi Bharatiya Divas this morning at Gandhinagar's swank Mahatma Mandir. About 4000 NRIs from 58 countries are expected to attend the annual fest that brings together members of the Indian diaspora.
Here are the highlights of his speech:
The Prime Minister has begun his speech at the Pravasi Bharatiya Divas 2015.
A resident Gujarati welcomes non-resident Indians today : PM Modi (Pravasi bharatiyon ka aaj ek pravasiya Gujarati swagat karta hain).
Indian nationals are there in over 200 countries. They have taken India there with them: PM Modi at the Pravasi Bharatiya Divas 2015.
People used to leave our country in pursuit of aspiration and opportunities. Those opportunities are present in India today. Times have changed very quickly: PM Modi
World is seeing India with immense hope and optimism
There are several opportunities waiting for you in India: PM Modi to the Indian diaspora
The more the entire world gets to know about Mahatma Gandhi, it will be better. His teachings have the strength to guide everyone.
The Indian community is admired all around the world. It is not due to the money they have, but the values that they live with: PM Modi
I have met more than 50 world leaders in the short span that I have been given this new responsibility.
All the world leaders I met expressed desire to partner with India.
Such opportunities do not come easily in a nation's life.
When someone living abroad finds out an Indian will be his neighbour, he's happy. He thinks his children will inculcate family values.
The world is ready to embrace India. We have so much to offer, what is needed is confidence in ourselves.
I put forth the idea of Yoga day in the UN and 177 countries out of 193 were keen on co-sponsoring it.
I know there were times you did not really want to participate in Pravasiya Bharati Divas, but I always attended.
When there was a quake in Gujarat, there would not have been a single person of Indian origin across the world who didn't shed tears.
When India goes through troubled times, people of Indian origin the world over feel the pain.
There is a different strength when we meet our own people and share our joys and sorrows. It's a source of great energy.
Everything can't be measured in pounds or dollars. Our relationship with people of Indian origin is beyond that.
There is one more issue that I am sure you are concerned about and that is the rejuvenation of Maa Ganga.
PM Modi in Sanskrit: Yastu sancharate deshaan sevate yastu Panditaan.Tasya vistaaritaa budhistailabindurivaambhasi. (Translation: A person who frequently travels to different countries and remains in the service of learned people, his scope of intelligence is very wide, just like a drop of oil which spreads over a wide area of water).
PM Modi proposes an quiz competition - Bharat Ko Jaano (Know India) as he concludes his address to the Indian diaspora at the Pravasi Bharatiya Divas 2015.