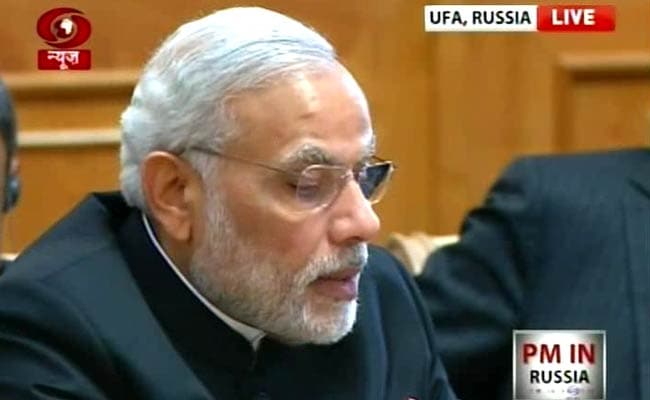 Ufa, Russia:
Pitching for closer cooperation and coordination among BRICS nations, Prime Minister Narendra Modi on Thursday proposed a 10-point initiative that includes India hosting the first trade fair for the grouping and establishing research centres for railways and agriculture.
Calling it 'Das Kadam: Ten Steps for the Future', PM Modi put forward new initiatives for the BRICS grouping that is formed by major emerging economies.
At the Plenary session, the Prime Minister said that "the challenges that the world is faced with are for every country. It is important to have consensus, collaboration and cooperation between all major nations".
The proposed initiatives for the BRICS include a trade fair, a Railway Research Centre, cooperation among supreme audit institutions, a Digital Initiative and an Agricultural Research Centre.
They also include State/Local Government's Forum, cooperation amongst cities in field of Urbanisation, BRICS Sports Council and Annual Sports Meet, a film festival and the first major project of NDB to be in field of Clean Energy.
"Also, every country should obey international rules and norms," the Prime Minister said at the BRICS meet which was attended by Russian President Vladimir Putin, Brazilian President Dilma Rousseff and South African President Jacob Zuma besides Chinese President Xi Jinping.
With regard to BRICS, PM Modi said that it is an "important pillar" in the world of challenges.
Giving a brief on the BRICS Summit, Secretary (Multilateral Relations) in the MEA Sujata Mehta said: "It will be our intention to carry forward the announcements made by our Prime Minister.
"The first announcement was that we should have an annual BRICS trade fair and our intention is that the first of these will be during India's chairmanship during 2016."
India will be the next chair of BRICS for 11 months beginning February next year.