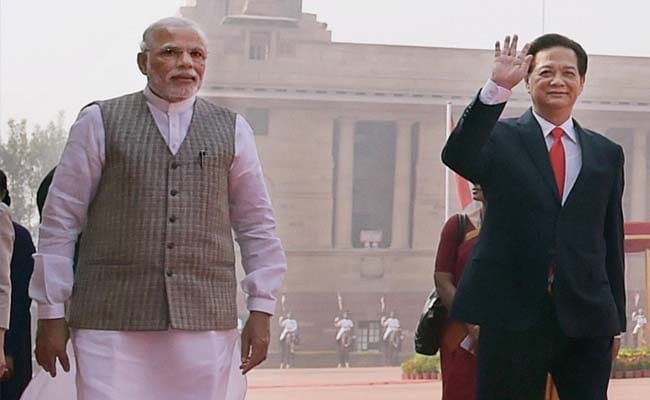 New Delhi:
Prime Minister Narendra Modi pledged on Tuesday to strengthen Vietnam's military, which is likely to rankle China.
Mr Modi said India will sell four naval patrol boats to Vietnam under a $100 million line of credit, the first significant military transfer to Hanoi at a time when it is embroiled in a territorial dispute with China.
Mr Modi held talks with Prime Minister Nguyen Tan Dung, who is on a two-day visit to India, as Hanoi courts powerful allies following soured relations with China over the disputed territory. China says it has sovereignty over essentially all of the South China Sea, which is a crucial maritime route and is also believed to hold huge oil and gas deposits.
Mr Modi and Premier Dung called for "restraint" and "freedom of navigation" in the South China Sea.
In May, Beijing moved a deep-water oil rig into waters claimed by Hanoi, prompting a months-long high-seas standoff and triggering deadly anti-China riots in Vietnam. The rig was removed in July.
Vietnam staunchly opposes China's ongoing efforts to develop airstrips and military bases on the island chains it controls in the South China Sea.
China has previously criticised India's cooperation with Vietnam in the oil and gas sector, saying its exploration activities off the Vietnam coast are illegal.
On Tuesday, responding to a question on India and Vietnam exploring oil together in the South China Sea, Beijing said it would have no problem so long as it was carried out in waters that were not disputed.