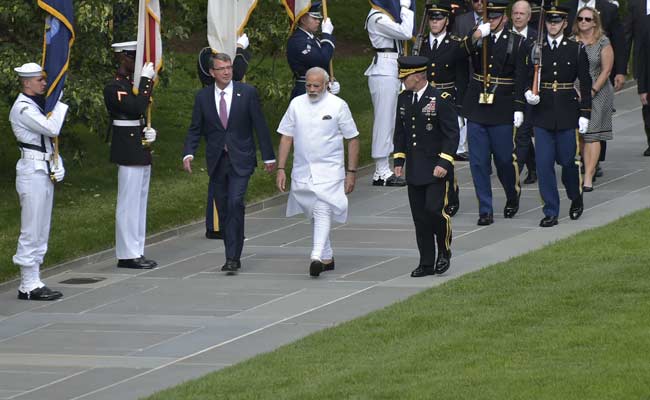 A little more than two years ago, the United States wouldn't let Narendra Modi into the country. This week, India's prime minister will have the honor of addressing a joint meeting of Congress.
It's the latest step in an unexpected evolution that has brought U.S.-India ties to new heights as President Barack Obama's tenure comes to an end. The U.S. sees India as a growing market for everything from F-16s to iPhones, while Modi wants American investment to kick-start a manufacturing boom. Both nations also have a common interest in countering China's rising military and economic might.
"There has been a significant change in Indo-U.S. ties under Modi," said Harsh Pant, a professor of international relations at King's College London. "Modi sees a partnership with the U.S. as essential to make India into a leading global player," Pant said, while the prime minister "is now widely viewed in Washington as the person best placed to take the relationship forward."
Obama has spent more time with Modi than with leaders of some of America's closest allies. He hosted Modi in Washington in September 2014, when they took a spontaneous trip to the new Martin Luther King Memorial. Obama visited New Delhi for several days as Modi's guest for India's Republic Day in January 2015, spending hours at a parade showcasing Indian culture and military might.
"There's a window of opportunity for both Modi and Obama as well to elevate the relationship and to try and move beyond some of the friction in the past," said Brett Bruen, a former official in Obama's National Security Council and now president of the Global Situation Room consulting firm based in Virginia.
As recently as 2005, the U.S. denied Modi a travel visa after human rights groups accused him of not doing enough to stem the violence three years earlier during religious riots in Gujarat, the state he governed. About 1,000 people died, mostly Muslims. Modi denied wrongdoing, and a Indian Supreme Court-appointed panel found no evidence he gave orders that prevented assistance from reaching those being attacked.
After Modi's landslide election win in May 2014 the U.S. said he would be welcome to the country as a head of government. Instead of holding a grudge, Modi has embraced closer ties with the U.S. as he looks to create jobs and build India's international profile. He arrived in Washington on Monday for his fourth trip in two years.
India has become the world's fastest-growing major economy as China's growth slows, representing an opportunity for American companies in the market of 1.3 billion people. At the same time, the U.S. is India's largest export market and the third-largest investor.
Companies like Wal-Mart, Facebook and Apple want to boost their presence in India. Over the past year, both Mark Zuckerberg and Tim Cook have visited the country to seek new opportunities. Modi this year moved to increase foreign investment in food marketing, which may allow Wal-Mart to expand -- a move that India has long resisted. U.S. companies and Obama have complained that it is difficult for them to operate in India because of the country's confusing bureaucracy.
Enacting the global climate accord signed last year in Paris is top of mind for Obama, White House press secretary Josh Earnest said on Monday. India, with some of the world's most polluted air and intentions to develop more industry, was a reluctant signer of the deal involving nearly 200 countries.
Defense is a particularly promising area for dealmaking. The U.S. has surpassed Russia as India's top supplier of defense equipment, and India is the second-biggest buyer of American arms behind Saudi Arabia, up from almost nothing five years ago. The stronger military ties represent a shift for India's leaders as they look to reduce dependence on Russia for weapons and counter growing Chinese naval capabilities in the Indian Ocean.
Modi now wants technology to build up India's local defense manufacturing as he spends $150 billion to modernize its military by 2027. The U.S. and India agreed to explore sharing technology for aircraft carriers and jet engines, and both Lockheed Martin and Boeing are competing for a new order that could surpass 100 fighter jets.
"My sense is this visit will have a significant component of defense cooperation," said Neelam Deo, a director of Mumbai-based think tank Gateway House and a former consul general for India in New York.
Yet despite the progress, constraints remain. India has long valued its strategic autonomy, limiting its cooperation with the U.S. in countering China. Although India routinely stresses the need for freedom of navigation in the South China Sea, it has refrained from joining U.S. patrol missions in the disputed waters.
Economic disputes also linger. Uncertainties over India's nuclear liability laws have prevented companies like Westinghouse Electric Co. from providing reactors. Apple may be required to source at least 30 percent of its components locally to open retail stores, a major obstacle to accessing the world's fastest-growing smartphone market. And India blocked a Facebook service that would deliver a limited Internet including Facebook and some other tools at no cost.
A "widening expectations gap" is emerging between the U.S. and India on promised economic reforms, Sen. Bob Corker, R-Tenn., said at a Senate hearing last month.
The election may also disrupt the personal ties Obama and Modi have developed. In an interview with the Wall Street Journal last month, Modi dodged questions about the presumptive Republican presidential nominee, Donald Trump.
No matter who wins, stronger U.S. ties are among Modi's top achievements since taking office, said Lalit Mansingh, a former Indian ambassador to the U.S.
"Modi is extremely pragmatic," Mansingh said. "Whoever comes to power will be as friendly with Modi as Obama has been."
© 2015 Bloomberg L.P.
(Except for the headline, this story has not been edited by NDTV staff and is published from a syndicated feed)