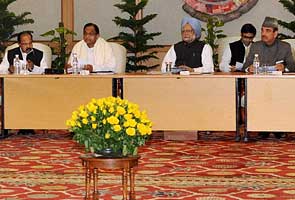 New Delhi:
In what is being seen as UPA-II's NREGA moment, in a blend of good economics and good politics, the Prime Minister this evening formally announced direct cash transfers to beneficiaries of subsidies in food, fuel and fertilisers. NREGA, the rural employment guarantee scheme, is widely acknowledged to have been one of the main reasons for its return to power for the second time in 2009.
The government has planned to roll out the cash transfer scheme in 51 districts from January 1. It would be extended to 18 states from April and the rest of the country later in 2013. The government aims to cover the entire country by the end of next year, ahead of the 2014 elections.
The direct cash transfer scheme will send money straight to the bank accounts of beneficiaries, almost of all of them from the poorest sections, instead of them getting subsidised food grains, kerosene and fertiliser. This is meant to not only plug leakages and wastage in the system but also cut down on corruption.
Announcing the scheme this evening, the PM said, "The funds that are provisioned for direct benefits like pensions, scholarships and health-care benefits must reach the intended beneficiaries without delays and leakages. Apart from these direct benefits, the government also provides an amount of over Rs 3 lakh crore in subsidies which too must reach the right people."
The government will disburse Rs 3 lakh crore every year, with each BPL (below poverty line) family getting between Rs 3,000 and Rs 4,000 a month in a designated bank account.Each family will get its cash transfer on the basis of its Aadhar or National Unique Identification (UIDAI) card.
The scheme has already been piloted for kerosene in parts of Rajathan, as well as cooking gas in Karnataka. The scheme for cooking gas subsidies will also cover eligible APL or above povery line families.
Given that the success of the scheme will depend on the distribution of Aadhar cards, the PM also said today that he "would expect the Finance Ministry and the Unique Identification Authority to work in close coordination to achieve a collective goal".
He also stressed on the need for integrating banking system with the post office network, especially in the rural parts of the country to move closer towards the goal of financial inclusion. Besides, he asked the UIDAI to ensure that the coverage of Aadhaar is adequate as per the roll out plan and no one is left out, and Aadhaar number should be available on demand if beneficiaries are getting left out.
(with PTI inputs)