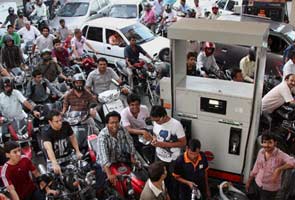 New Delhi:
After widespread protests and political demands for a withdrawal of the huge petrol price hike of Rs. 6.28 plus local taxes effected last night, there is now talk that the government might consider a partial rollback. Sources said opposition parties and allies apart, even leaders of the Congress have said they did not know about the price rise and have joined the chorus that the hike be withdrawn.
A nudge in that direction came on Thursday evening from the Congress, which leads the UPA government, with party spokesman Manish Tiwari saying, "We hope the government could find a way to mitigate the burden on the common man. Some state governments have already started making some efforts." But Mr Tiwari, like Finance Minister Pranab Mukherjee had yesterday, belaboured the point that the decision to hike prices was taken by oil companies and not by the government. Oil companies today explained their decision saying they had exhausted all their options, and had no choice.
While there has been talk that a Rs 2 to Rs 2.50 rollback in prices could be made, this might not happen immediately as the government attempts to grapple with a sliding Rupee and other economic challenges. Sources point out that with no elections due in the next few months, the government might see this as an opportune moment to stick to a tough decision for a while and avoid populist reactions.
(Top 10 surfer comments)

In such, a party vs the government positioning by Congress president Sonia Gandhi allows the ruling party some respite from a political backlash. Sources said the hike could well have been structured with a margin for rollback built in to counter the demand of allies and the expected public anger. In November last, petrol prices were raised by Rs 1.80, but the hike was withdrawn after much political pressure, including from the Congress.
Congress chief ministers like Shiela Dikshit had expressed concern yesterday and the party had reportedly given the states that it rules instructions to cut local taxes on petrol to reduce the burden on people. Uttarakhand, which has one of the newest Congress governments, announced a 25% cut in value added tax on petrol this morning. In Kerala, the Congress government of Ooomen Chandy has announced a cut of 1.63% value added tax on petrol.
The Congress' spokesmen have been fielding tough questions since yesterday and pointing out that petrol is deregulated and so subject to market prices. And that state-owned oil companies and not the government raise prices. Oil Minister Jaipal Reddy, who is in Turkmenistan to sign a natural gas deal, has been asked to return and he shall do so today, a day earlier than scheduled.
People, allies and friends protest

Peoples' protests have been spontaneous and angry; effigies have been burnt in many places across the country. And at least one Union Minister, Railway Minister and Trinamool Congress leader Mukul Roy has been spotted protesting on the streets. His party chief Mamata Banerjee said the decision was not discussed with the government's allies even in Parliament which was in session till Tuesday. She said yesterday, "We don't want political instability. We made a commitment and if we topple the government now. There will be political instability. We are not like the Left. But just because we aren't leaving, doesn't mean that we won't protest or we won't oppose."
The DMK's M Karunanidhi too said he was not consulted before the hike. And the Samajwadi Party too asked for a rollback. "We demand immediate roll back of petrol price hike. The decision is anti-people," SP spokesman Rajendra Chowdhury said.
(Dinner diplomacy gone, Mulayam's party slams petrol hike)
The Opposition has accused the government of choosing to make the announcement a day after the Budget Session ended to avoid getting cornered in Parliament. "Petrol price hike is atrocious and unbelievable. The UPA government, on its third anniversary, has given this gift of petrol price hike to the people. And that too Rs. 7.50 per litre. This is unheard of and unimaginable," said BJP leader Prakash Javadekar.
Even Lalu Prasad Yadav of the RJD, prominently feted at the UPA's celebratory dinner party on Tuesday said, "The hike was announced just a day after the Budget Session got over. It's a huge hike. And it keeps increasing."
(Read: Petrol prices hiked, could diesel , LPG be next?)


Why a steep petrol hike
The revision in petrol prices came as the rupee hit an all-time low of Rs. 56.38 against the dollar. The actual increase in prices varies from state to state depending on sales and local VAT taxes.
Finance Minister Pranab Mukherjee has blamed global uncertainties and the rising oil imports bill for the battering of the Indian currency. "The quantum of India's oil imports is substantial at around $160 billion to $170 billion annually," he said.
"Given the losses being incurred, the company is compelled to increase the price of petrol by Rs.6.28 per litre (excluding VAT/Sales Tax) with effect from midnight," the country's largest oil firm, Indian Oil Company, said in a statement. "This excludes losses already suffered till date during current financial year 2012-13, which would require an additional increase of around Rs. 1.50 per litre in selling price of motor spirit (MS) for balance part of the year," Indian Oil said.
India deregulated petrol prices in June 2010 but continues to subsidise kerosene, petrol and cooking gas to protect the poor from the impact of any inflation pressures. In the second half of 2011, oil companies began reflecting market realities more closely and raised petrol prices but were stopped from end-November on the request of the government - their majority shareholder - ahead of elections in some states. Petrol prices were last revised on December 1.
State-run oil companies have been losing Rs. 8000 crores per annum because they were being forced to sell petrol at subsidised rates.