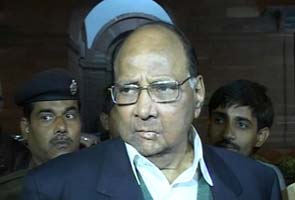 Mumbai:
The Maharashtra assembly today witnessed a furore after the Oppostion accused Union Agriculture Minister and International Cricket Council (ICC) president Sharad Pawar of having links with DB Realty promoter and 2G scam accused Shahid Balwa.
Leader of Opposition Eknath Khadse from the Bharatiya Janata Party (BJP) alleged that NCP leaders including party president Pawar and Praful Patel had used Balwa's plane.
Khadse claims to have documentary evidence which shows these details.
He also claimed that Pawar had, in February last, travelled to Dubai with Balwa and his partner Vinod Goenka. Accompanying them on the flight were Pawar's wife Pratibha, BCCI chief Shashank Manohar and his wife Varsha, Punjab Cricket Association (PCA) president I S Bindra, and ICC's Chief Executive Officer (CEO) Haroon Logart.
Balwa is currently in CBI custody in connection with the 2G spectrum scam. He was arrested by the on February 8.
In 2008, when he was Telecom Minister, A Raja gave away valuable spectrum at throwaway prices to companies including Balwa's Swan Telecom. Balwa allegedly repaid Raja Rs 214 crore.