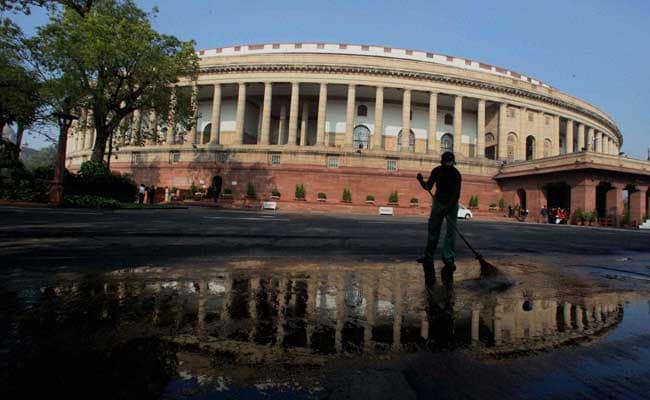 New Delhi:
The winter session of the parliament entered day 9 following the passage of the "historic" triple
talaq
bill in the Lok Sabha on December 28
th
. The bill makes instant "triple
talaq
" a criminal offence and proposes a three-year jail term for a Muslim man who divorces his wife by uttering the word "talaq" thrice. The bill will now be tabled in the Rajya Sabha either on Monday or Tuesday. A number of other bills, primarily related to the business sector, are expected to be tabled today, on the last working day of 2017.
Here are the highlights of the winter session of parliament:
98 private members' bills introduced in LS

According to a report by news agency PTI, around 98 private members' bills were introduced in the Rajya Sabha on Friday, including one to constitute a board for protection and control of stray cows. The bill was introduced by the BJP's Kunwar Pushpendra Singh Chandel.

Another bill to establish two time zones in India for systematic and inclusive administration in the country, was introduced by Congress member Gaurav Gogoi.

Demand to declare January 23, the birth anniversary of Netaji Subhash Chandra Bose, as 'Desh Prem Diwas' made in Rajya Sabha.
National Medical Commission Bill 2017: As per the provisions of the draft bill, no permission would be needed to add new seats or to start post-graduate courses
According to the draft bill (Medical Commission), the commission will have government-nominated chairman and members, and the board members will be selected by a search committee under the Cabinet Secretary. There will five elected and 12 ex-officio members in the commission.
Government also to seek amendments to Insolvency and Bankruptcy Code today
Government also to seek amendments to Insolvency and Bankruptcy Code today. The bill, seeking amendments in the code, was introduced in the Lok Sabha on Thursday to plug potential loopholes and prohibit "certain persons", such as wilful defaulters, from submitting resolution plans to let them take charge of the company. The Insolvency and Bankruptcy Code (Amendment) Bill, 2017 was introduced by Finance Minister Arun Jaitley. The passage of the amendments to the Code will bar a professional from selling the property of a defaulter to any such person during liquidation.
National Medical Commission Bill, A leap forward?
The National Medical Commission Bill 2017 will replace the Indian Medical Council Act, 1956. It provides for the constitution of four autonomous boards entrusted with conducting undergraduate and postgraduate education, assessment and accreditation of medical institutions and registration of practitioners under the NMC and therefore is seen as a big leap forward towards reforming the regulation of medical education.