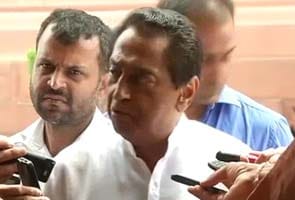 New Delhi:
Parliamentary Affairs Minister Kamal Nath is expected to meet Leader of Opposition in the Lok Sabha Sushma Swaraj today to try and buy peace to ensure that Parliament functions. Ms Swaraj's party the BJP, however, has blandly stated that the price of that peace is the resignation of Law Minister Ashwani Kumar. It also wants the Prime Minister to resign.
Amid the ruckus by the Opposition, both houses of Parliament were adjourned till noon. An all-party meeting called by the Speaker to end the House deadlock is underway.
On Friday, the CBI admitted in the Supreme Court that a version of its report to the court on investigations into coal allocation was seen in advance by Mr Kumar, officials in the Coal Ministry and the Prime Minister's Office. In its affidavit, the CBI said the report was shared with these officials "as desired by them."
The BJP says not only must Mr Kumar resign, but the Prime Minister must too; the Opposition party contends that the CBI's admission establishes that the government is trying to influence the agency's investigation to protect the Prime Minister, who held direct charge of the Coal Ministry for some of the years under review.
Prime Minister Manmohan Singh ruled out Mr Kumar's resignation over the weekend. He also warned that by not allowing democracy to function we are making mockery of our system of democracy. "The whole world is laughing at us. Whatever the issues, these can be debated, discussed and decisions arrived at through proper dialogue at Parliament," he said.
The BJP's Ravi Shankar Prasad countered today, "PM says Ashwani Kumar will not quit. If Ashwani Kumar goes his PMO officials are equally involved. The government must own up accountability."
Mr Prasad also put the onus of running Parliament on the government, not promising that the BJP will allow the Houses to function. "Parliament is for debate but the obligation to run the House rests with the government. This government wants a debate but runs away from accountability," he said.
Neither House transacted any business last week after Parliament reconvened for the rest of the Budget session, as the opposition made noise over the coal issue and over what it calls the biased draft report of a parliamentary panel inquiring into the 2G telecom scam.
The government needs to pass many crucial bills, including the finance Bill in the last two weeks of the Budget Session. Hence Mr Kamal Nath's urgent efforts at troubleshooting. He met the BJP's seniormost leader LK Advani on Friday.