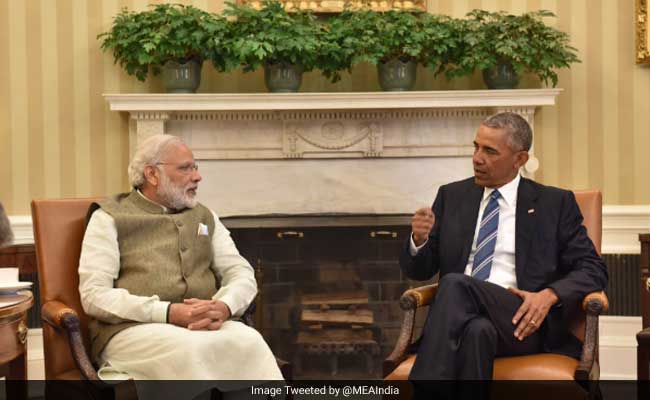 Washington:
The historic accord on climate change signed in Paris last year would not have been possible if it was not for India's leadership on "substantial commitments", the White House said in a statement on Tuesday, shortly after Prime Minister Narendra Modi met US President Barack Obama in Washington.
"We've said on many occasions that India's role was significant and it's unlikely that we would have actually reached an agreement in Paris had the Indians not stepped up and shown leadership in making some substantial commitments," White House Press Secretary Josh Earnest told reporters.
PM Modi on a 5-nation tour met US President Obama for the seventh time since assuming office in 2014. This is the Prime Minister's fourth visit to the US.
"We discussed how we can, as quickly as possible, bring the Paris Agreement into force," Mr Obama said at a joint press conference after the meeting.
An India-US joint statement issued shortly after said, "The United States reaffirms its commitment to join the agreement as soon as possible this year. India similarly has begun its processes to work toward this shared objective."
Mr Earnest said PM Modi's role at Paris last year is a testament to his willingness to take a political risk to do what he thinks is right, not just for his country, but for the planet, and that "he deserves a lot of credit for it."
The agreement at COP 21 under the United Nations Framework Convention on Climate Change (UNFCCC) will take effect when at least 55 countries, representing 55 percent of global emissions ratify it. Many countries including the US and China have pledged to ratify the pact this year.
Brian Deese, senior adviser to Mr Obama said that country was "better positioned than we ever have been to reach the goal".
The two countries have also agreed to set-up six US-made nuclear reactors in India.
"We were pleased to see India announce that it intends to build six Westinghouse nuclear reactors in India. This is a project that would create and sustain tens of thousands of good paying jobs in the United States and in India," Mr Earnest said.