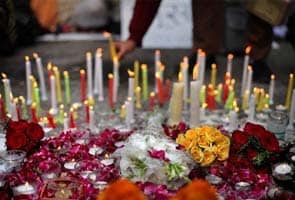 Islamabad:
Members of Pakistani civil society groups held a candle light vigil in the capital to express outrage at the gang rape of a young woman in India and to show solidarity with Indian civil society's demand for stronger laws to punish rapists.
The protesters lit candles and shouted slogans like "We show solidarity with women in India" and "We will stand up for women everywhere".
A number of passers-by joined the gathering at Super Market in the heart of Islamabad on Monday evening and expressed grief at the gang rape that triggered protests across India.
The vigil was organised by the Potohar Organization of Development Advocacy, Sisters Trust Pakistan and Women's International League for Peace and Freedom.
Several persons who addressed the gathering demanded the death penalty for rapists while others favoured strict punishment, including life imprisonment.
"Violence against women in any part of the world diminishes all of us. Therefore we are here to show solidarity with the women of India and to express our resolve to end violence against all women," Sameena Nazir, director of Potohar Organization of Development Advocacy, was quoted as saying by the media.
The civil society groups will continue to raise their voice whenever there is violence against women in Pakistan, India or anywhere in the world.
"The media in India and Pakistan must play its role in stopping violence against women," she said.
Rehana Hashmi, president of Sisters Trust Pakistan, said there were no borders in showing solidarity for women's rights.
"We strongly condemn the brutal violence against the female medical student in India and demand strict punishment for those who committed or supported this crime," she said.
Poet and rights activist Harris Khalique said: "After this barbaric incident, we need to question where are the values of Sufism, Buddism and non-violence that India and Pakistan always advocate".
Rukhshinda Parveen from the NGO Rakshi said societies must stop blaming women for cases of violence against them.
"Men and boys need to be educated that women's bodies are not commodities and all women are worth respect, no matter what dress they wear or how they look," she said.
The gathering observed a moment of silence for the victim of the gang rape in India and demanded a law on domestic violence against women in Pakistan.