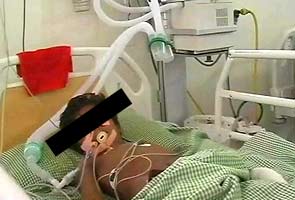 Mumbai:
The Maharashtra government has said that an overdose of anti-malarial medicine and not snake bite killed two children in a Gondia residential school on Tuesday.
It had earlier been reported that the two children, aged six and twelve, had died of snakebite. But the government now says that the children, who were anaemic, were prescribed anti-malaria pills.
The state government has also said that primary medical reports were manipulated by school authorities to protect the accused.
According to Maharashtra Tribal Development Department, overdose of anti-malaria pills that were prescribed to the anaemic children led to their death.
The commissioner of the department has written to Gondia's Superintendent of Police, asking the accused to be booked for culpable homicide and under the Atrocity Act.
In another letter to the Regional Forensic Science Laboratory, he has said, "The death are due to the high doses of malarial pill applied to under aged, say six years , undernourished, malnourished , anaemic and therefore unbearable. The primary medical report, alleged to have been managed, says it is due to snake bite. You are, therefore requested to take utmost care while reporting viscera observation and adhere to the facts and circumstances."
The school, Ashramshaalaa, is reportedly run by a local BJP leader.