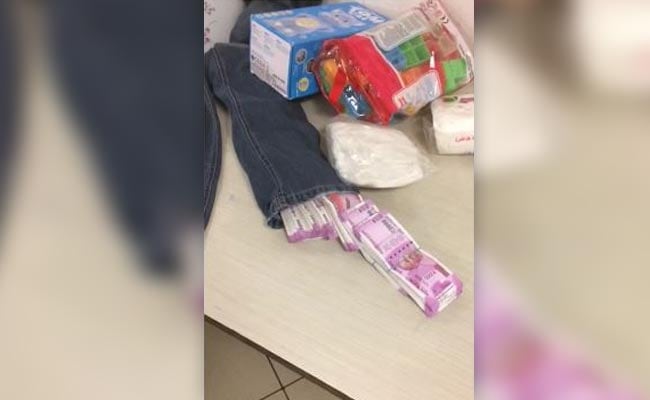 New Delhi:
Multiple raids were conducted today in a nationwide crackdown on black money with crores - including in Rs 2,000 notes - being found in the searches. The Enforcement Directorate arrested Kolkata-based businessman Paras Mal Lodha in Delhi for allegedly converting over Rs 25 crore in banned currency into new notes. Mr Lodha, a real estate developer, was arrested last night for allegedly helping Tamil Nadu businessman J Sekhar Reddy and Delhi-based lawyer Rohit Tandon in converting more than Rs 25 crore of banned notes to new currency notes.
Here are the latest developments:
Paras Mal Lodha, officials say, was first intercepted at the Mumbai airport while he was trying to fly out of the country.

Mr Reddy was arrested on Wednesday by the Central Bureau of Investigation for unaccounted money and tax evasion. Lawyer Rohit Tandon's south Delhi office was raided earlier this month; officials seized Rs 14 crore of which more than Rs 2.2 crore was found in brand-new 2,000-rupee notes.

Mr Reddy allegedly has business links with Vikram Rao, the son of P Rama Mohana Rao who was today removed as Tamil Nadu's Chief Secretary a day after income tax raids at his home and office in Chennai. Raids were also carried out at seven other locations, including at the homes of his relatives in the city and Chittoor in neighbouring Andhra Pradesh.

In the raids, income tax officials claimed to have recovered nearly Rs 30 lakh in cash and five kilograms of gold. The raids, officials said, were linked to a tax evasion investigation against Vikram Rao.

In Chennai, five people carrying Rs 1.34 crore in Rs 2,000 notes were arrested this morning at the airport by revenue officials.

In neighbouring Kerala, teams from the Enforcement Directorate and CBI raided district cooperative banks in Kollam, Kozhikode, Kannur, Malappuram on Wednesday night. According to CBI sources, Rs 260 crore of unaccounted money was found in Malappuram District Cooperative Bank.

Sources say that of the Rs 260 crore, Rs 100 crore already existed in the bank while most of the remaining amount was channelled from subsidiary cooperative societies between November 10 and 14, just a couple of days after the notes ban.

In Mumbai, authorities at the airport seized Rs 28 lakh in 2,000-rupee notes from a man travelling to Dubai. He had hidden the new notes in toys, utensils and trousers kept in his check-in baggage.

In Uttar Pradesh's Sambhal, two persons were arrested with nearly Rs 20 lakh in new currency notes.

There have been almost daily cash hauls during raids in the past few weeks, amid a massive cash crunch after the government banned Rs. 500 and 1,000 notes on November 8 to combat corruption and tax evasion. It wiped out 86 per cent of the money in circulation.