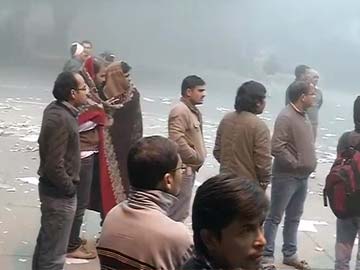 New Delhi:
A small crowd of protesters have staked out overnight outside Rahul Gandhi's home in Delhi and say they will not leave until the Congress leader gives them a hearing.
Nearly 50 young men and women from the Jawaharlal Nehru University spent the night outside Mr Gandhi's Tughlaq Road residence, surrounded by security personnel.
As a foggy morning dawned, they were joined by media crew and more security men.
The students want a relook into changes in the civil service examination conducted by the Union Public Service Commission or UPSC. Besides a review of what they call drastic changes in syllabus, they have asked for the new rules to be relaxed to include more attempts and increase the age cut-off.
The aspirants started gathering outside Mr Gandhi's home on Wednesday afternoon. Late at night, the Congress vice president sent a representative to assure them that their demands would be looked into and he would meet them.
"Earlier too, Union Minister Narayanasamy came to us and assured that he would look into our demands. But there was no solution," said Abhishek. "We plan to stay here for the maximum time. More students planning to join us."
The students say they had met Rahul Gandhi on December 12, but nothing had changed since then. "We won't leave without meeting him," said a protester.