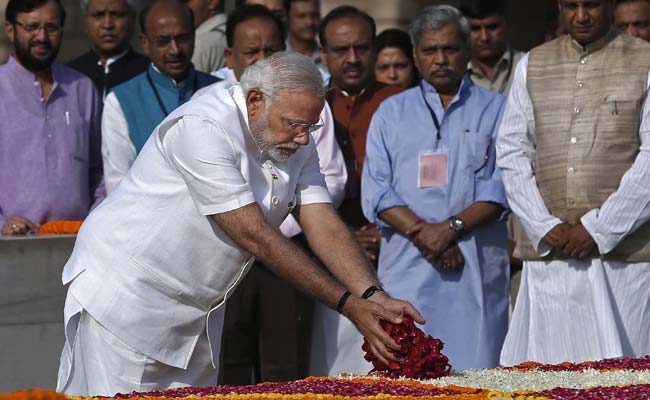 New Delhi:
Prime Minister Narendra Modi will pay homage to Mahatma Gandhi on his 149th birth anniversary today and attend programmes related to sanitation and renewable energy. The emphasis will be on the 'Swachhata Hi Seva' mission as the day marks the beginning of the 150th year of Mahatma Gandhi's birth.
"Events related to sanitation and renewable energy shall be the focus of the Prime Minister's engagements on Gandhi Jayanti," said a statement from the Prime Minister's Office.
PM Modi will offer floral tributes to Mahatma Gandhi at Rajghat and also visit Vijay Ghat to pay tributes to former Prime Minister Lal Bahadur Shastri, whose birth anniversary also falls on October 2, the statement said.
The day will mark the launch of the 150th anniversary celebrations of the Mahatma.
At the Rashtrapati Bhavan cultural centre, the Prime Minister will attend the closing session of the Mahatma Gandhi International Sanitation Convention -- a four-day international conference that has brought together sanitation ministers and other leaders from around the world.
PM Modi will visit a mini digital exhibition at the event, accompanied by UN Secretary General Antonio Guterres.
The dignitaries will launch commemorative postage stamps on Mahatma Gandhi and a CD based on his favourite hymn 'Vaishnav Jan'.
The Swachh Bharat Awards will be distributed on this occasion.
Later in the day, the Prime Minister will inaugurate the first Assembly of the International Solar Alliance.