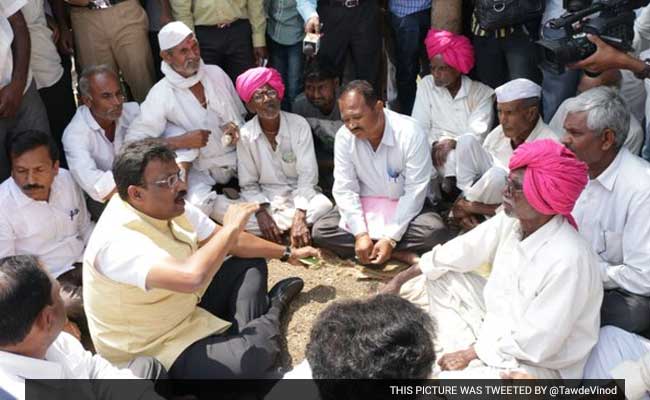 Mumbai:
In an embarrassment to Maharashtra Education Minister Vinod Tawde, one of his personal staff allegedly heckled protesters from Swabhimani Shetkari Paksha, an ally of BJP, during the minister's tour of a drought-hit village in Latur district today.
Following the incident in Latur's Yedshi village, chief of Swabhimani Shetkari Paksha, Sadabhau Khot demanded Mr Tawde's resignation.
Television grabs purportedly showed Mr Tawde's Personal Assistant Santosh Surve being at the forefront of a scuffle between two groups.
Mr Surve allegedly heckled the protesters in the presence of police officials and Mr Tawde.
"I have seen the whole episode. Farmers are not getting the right price for their milk and there is acute water shortage that has led to discomfort among farmers," Mr Khot said.
"These farmers had only gone to express their dissatisfaction to Tawde carrying milk packets. One of the milk packets got torn and a bit of it spilled onto the minister's entourage. But their reaction following this is not right," he said.
"This shows that power has got into their heads. But, we will not take this lying down. I will myself approach the Prime Minister (Narendra Modi) and BJP chief Amit Shah and demand an immediate resignation from Tawde. The BJP should not tolerate hooliganism," said Mr Khot.
One of the protesters, who was allegedly hit by Mr Surve, said, "There have been the highest number of suicides in the district and farmers have received no help. Out of Rs 1 lakh announced by the government, 70 per cent is deposited as fixed deposits and a farmer only gets 30 per cent."
"While we only went there to convey our grievances to the minister, people from his (Mr Tawde's) entourage, along with his PA started mercilessly hitting us. He had even picked up a stone to hit us but we somehow got saved. Eventually, Tawde only removed his PA from the tour," he added.
However, reacting to the incident, Mr Tawde said, "We had gone to a school to interact with children. Once we came out, one of the protesters threw a glass bottle on me which eventually hit the school wall. Santosh Surve had only come forward to stop the protesters which made it seem that he hit them, which was not the case."
(This story has not been edited by NDTV staff and is auto-generated from a syndicated feed.)