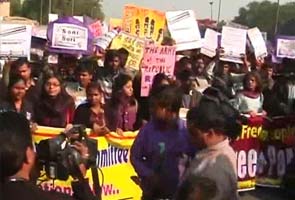 New Delhi:
Just hours after Rajpath in the heart of Delhi came alive with a grand display of India's military might and colourful floats to mark the country's 64th Republic Day, not far away, a very different procession was taking to the streets.
Called the 'freedom march' to Reclaim the Republic, it included many protesters who had been water-cannoned and tear-gassed just last month at the same place that was today the focus of India's celebration.
Kavita Krishnan of the All India progressive women's association, who was among the main organisers told NDTV, "What started perhaps as a symbol of empathy for a 23 year old, has now gone beyond it today. It has extended to all known and unknown victims of violence. We are marching with placards, some of which have names of either the victims or the cities where these crimes were committed like Shopian, Hisar or names like Soni Sori. And there are also those placards which are for unknown victims. We don't need to know their name to support their fight for justice. Through this protest what we want to really do is reclaim our republic. We are the people and our leaders owe it to us to listen to what we have to say."
As the protesters, young and old, made their way towards Jantar Mantar, the focus was clear: to keep the focus back on urgent reforms.
Archana Sengupta, a senior citizen who was also part of the march said that she was hopeful protests like these will help bring about a positive change.
Over 200 participants who marched from Mandi house to Jantar Mantar, also wanted the government to expedite implementing the recommendations of the Justice Verma committee's report.
One protester, Upamanyu said, "We need to implement Justice Verma's report."
Another college student said, "We want to show the government that public memory is not short. We are fighting for all those who have been victims of heinous crimes."
Binalakshmi Nepram, Founder of the Manipur Women Gun Survivors Network said, "This is a very important moment and I think it is one that will change the nation."
It was called the 'freedom from fear' march, a show of solidarity for victims known and unknown - a protest that many here intend to repeat in the run up to the budget session of Parliament to keep up the pressure on the government.