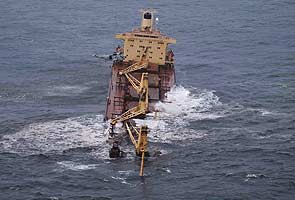 Mumbai:
The oil spill from the MV RAK carrier which sank near Dahej, 22 nautical miles from Mumbai, has thinned but it is still a worry. Environmentalists now say oil has spread beyond Mumbai to the Raigad district.Traces have been noted particularly between Uttan in Bhayandar and Gorai beach. The Brihanmumbai Municipal Corporation (BMC) has inspected the area and has sent water samples for testing.
Environment Minister Jayanthi Natarajan, however, says that the spillage is negligible and that there is no threat to Mumbai coast.However, environmentalists say if the oil spill enters the creek, it will affect the mangrove's ecosystem.
"It is quite close to the shoreline and there is not much distance separating the oil from the beaches and mangroves. Since this is the breeding season, this is the most vulnerable time of the year," said Debi Goenka, an environmentalist.
The Coast Guard has deployed two ships, including its anti-pollution vessel INS Samudra Prahari and Coast Guard vessel Sankalp, which are neutralizing the oil spill by spraying chemicals that binds the oil and prevents it from spreading. The Coast Guard also conducted air sorties this morning.
Earlier there had been fears about whether another grounded ship MT Pavit was also leaking oil but authorities have clarified that there is no oil spillage from Pavit. The Pavit had been abandoned near Oman about a month ago after serious technical issues with its engines. It then drifted into the Arabian Sea and entered India's exclusive economic zone which extends 200 nautical miles off the Mumbai coast.
Last August, after MSC Chitra and MV Khalija collided off the Mumbai coast, the oil spill spread not just to the coast of Mumbai, but as far as Raigad and Elephanta, damaging the mangrove belt in and around Mumbai city, contaminating shores, and even threatening fishing activity.
"When the oil sinks, it enters into the food chain. The algae imbibe the oil and that may affect the entire marine ecology," said Swapna Prabhu, from Bombay Natural History Society.
Environmentalists also points out that salvage operations will be difficult to undertake due to the rough weather and tidal conditions because of the monsoons. This means, Mumbai will have to keep its fingers crossed, hoping the oil lead is kept at bay and the vessel stays intact.