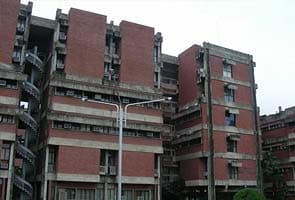 Kanpur:
India's top engineering institutes, the IITs, have failed to find a place in the world's top 200 universities, and the reason, according to an IIT director, is that they didn't pay the huge price to be even considered for a global ranking.
"They (a ranking agency) charge 1.5 lakh US dollars per IIT and even the ministry is aware of this," said Indraneil Manna, the director of IIT-Kanpur, "One agency proposed that we pay 4.5 lakh dollars to be evaluated. It was quite a large sum."
Without naming any ranking agency, Mr Manna claimed that since the IITs refused to subscribe, their place in the global rankings suffered as it was based on outdated data available freely on the Internet.
The top IIT official, who is part of a five-member committee of directors set up to explore global ranking systems, said, "We don't shy away from scrutiny. If the exercise is transparent and objective and most importantly their data interpretation is precise then it's worth spending that much money."
The IITs have always maintained that they don't want to be part of the global rat race, but the slide in rankings seems to have rattled the premier institutes.
In the prestigious QS rankings of the world's 500 best universities released on September 10, IIT Delhi ranked at 222, IIT Bombay at 233, IIT Kanpur at 295, IIT Madras at 313 and IIT Kharagpur at 346.
The world's top three were MIT, Harvard and Britain's Cambridge.
"It hurts our reputation, so now we have been forced to explore the ranking system," Mr Manna said, "We never felt the need to chase a ranking system, but the President raised a concern that IITs are not making it to any global list, so we felt the need to address that concern."
The IITs, which count among their alumni some of the world's best brains, have faced criticism from many former students about a decline in the quality of teaching and research in the institutes.