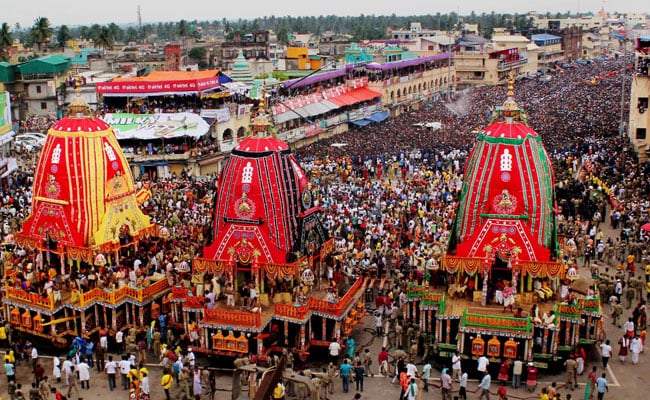 Bhubaneswar:
The Odisha police will seek permission from the Centre to declare Puri and its periphery as 'No Flying Zone' during the Rath Jatra of Lord Jagannath, an official said.
This was decided on Tuesday at a co-ordination meeting, presided over by Odisha DGP RP Sharma, on the Rath Jatra on July 14 at Puri.
"It was decided to seek permission from the Centre to declare Puri town and its periphery as No Flying Zone during the festival. The Director of the Biju Patnaik International Airport and the Director of Civil Aviation have said that they will pursue the matter," he said.
The state's senior police personnel, officers of the central government, security agencies like the CRPF, the BSF, the NSG, the RPF, the Coast Guard, the Air Port Authorities of India, the Indian Navy and the IB also attended the meeting.
While a threadbare discussion was held relating to the security arrangement for smooth conduct of the festival, the central agencies expressed desires to extend their support to provide sufficient number of manpower and equipment to supplement the security.
While the Coast Guard has agreed for adequate sea patrolling off the coast of Puri, the RPF offered to ensure adequate security at Puri and Bhubaneswar railway stations and dissemination of information to passengers on timings of different trains.
As decided in the meeting sufficient number of CCTV cameras will be installed by the RPF in the Puri railway station during this mega festival, the official said.
Senior officers of the CRPF and the BSF also expressed their co-operation to prevent any subversive act by extremist groups, he said.
A team of the NSG is likely to camp at Puri to meet any emergency during the festival, the official said adding that sufficient number of personnel from NDRF would also be deployed to act in any crisis situation.