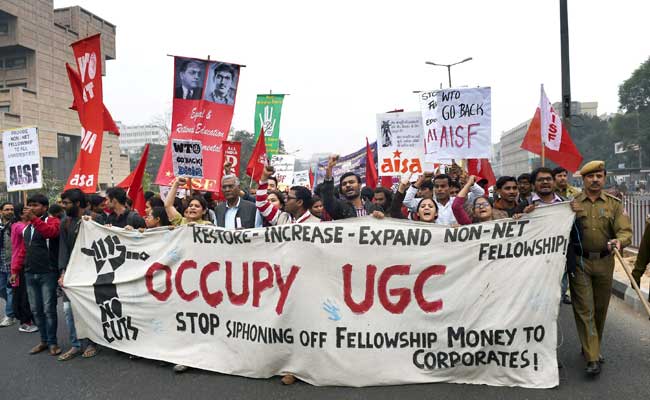 New Delhi:
Students from universities across the country camping outside the UGC office for the last 45 days against scrapping of non-NET fellowships today marched to the Parliament to raise their issue but were stopped midway. According to police officials, 150 students were detained and police had to resort to water cannon and tear gas shells to disperse the crowd.
The students from Jawaharlal Nehru University (JNU), Delhi University, Jamia Millia Islamia, Ambedkar University, Allahabad University, Jadavpur University, Aligarh Muslim University, Haryana University, Panjab University, among others, today participated in the "national mobilisation call" demanding that their suggestions be considered.
The students also registered their protest against proposed negotiations on higher education at the forthcoming WTO conference in Nairobi.
"We have been sitting on protest since 45 days but government has neither tried to have a conversation with us nor they have paid any heed to our demands. We are dispersed from here every now and then by police and now when we tried to march to the Parliament we were beaten up by police," said Sunny Kumar, one of the protesters.
Praveen, a protester from JNU alleged, "many of us were beaten by police and injured despite our attempts to peacefully conduct a march".
Police officials, however, said that the students pelted stones at police prompting them to use water canons.
"Students started pelting stones at police deployed there following which we had use water canons and tear gas shells," a senior police official said.
UGC had in October resolved to discontinue the scheme of non-National Eligibility Test (NET) fellowship, which is provided to those undertaking research in Central universities across India, in a meeting held on October 7, citing shortage of resources.