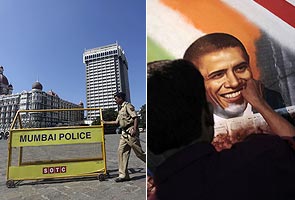 Mumbai:
US President Barack Obama arrives in Mumbai on Saturday leading the largest-ever American business mission overseas on the first leg of his maiden visit to India which will give a fresh impetus to bilateral strategic and economic partnership and counter-terrorism measures.
The visit of Obama (49) to the country's financial capital has been clouded in a row over invitees to his functions here being asked by US consulate to submit personal details like PAN numbers drawing angry reactions from senior Maharashtra ministers and officials.
US Consul General Paul Folmsbee said he had visited Chief Minister Ashok Chavan and Deputy Chief Minister Chhagan Bhujbal personally to apologise and blamed the unusual request on a "clerical error." There is no word yet whether the two leaders will attend after the apology was tendered.
An unprecedented massive three dimensional security - land, air and water - has been put in place for Obama's visit to Mumbai with thousands of personnel from US Secret Service, Indian Intelligence, anti-terror Force One commandos and local police deployed.
Obama who is expected to arrive around noon before proceeding to New Delhi on Sunday on the second and final leg of his three-day visit.
Obama, who is the sixth American president to visit India, will hold summit talks on Monday with Prime Minister Manmohan Singh in which the crucial issue of lifting restrictions on export control of high technology items to this country, India's quest for a permanent membership of the UN Security Council, counter-terrorism measures and a joint initiative on clean energy are expected to figure prominently.
FICCI's president Rajan Bharti Mittal is doubtful if any big-ticket deals would be sealed during the visit but said Indo-US economic ties will climb to a new high through the interactions.
US-India Business Council is organising what its president Ron Sommers described as the largest-ever US business mission overseas, with some 240 companies taking part in a commercial summit here alongside Obama.
In a gesture loaded with symbolism, Obama, the third President to visit India this century after Bill Clinton and George W Bush, begins his trip from Mumbai, the target of the brazen 26/11 terror attacks, even as his country spearheads the war against the menace.
The choice of Taj Hotel, the epicentre of the Mumbai massacre by Pakistani terrorists, for his two-day stay, has been described by Obama in an interview to PTI as a "tribute to the resilience of the Indian people" and to underscore the shared commitment of the two countries to counter terrorism.
Immediately after the Air Force One touches down at Mumbai airport, Obama will fly to the 19th century icon of Indian hospitality and make a statement to commemorate the 26/11 attacks. He will pay his respects to the victims and sign the guest book.
Obama will then visit the Gandhi Museum at Mani Bhawan to honour the memory of the father of the nation. Gandhi, according to Obama, has inspired Americans and African Americans, including Dr. Martin Luther King.
He will then attend a business summit organised by the US-India Business Council, participate in a roundtables with entrepreneurs and US CEOs and deliver a speech at Hotel Trident, another target of Mumbai carnage in November 2008.
Battling economic crises at home at wars abroad, besides tasting reverses in Congressional elections just ahead of his India visit, Obama is expected to make a pitch for greater access to US companies to its markets, particularly in financial and retail sectors, at the summit.
Over 350 Indian corporate honchos, including Ratan Tata, Mukesh Ambani, Anand Mahindra, Deepak Parekh, Adi Godrej and Chanda Kochhar will be attending the summit.
On November 7, the US President will visit the Holy Name School in Colaba and participate in Diwali celebrations.
Obama is scheduled to attend an Agricultural Exposition and the Open Government and Technology Exposition and also interact with university students at St. Xavier's college, before leaving for Delhi in the afternoon.
Indian Navy and Coast guard vessels are patrolling the Mumbai coastline even as warships including US Navy's Peleliu, an amphibious assault ship, carrying choppers, are in the Indian waters off the Mumbai harbour, police said.
The aircraft the Peleliu usually carries are AV-8B Harrier attack planes, AH-1W Super Cobra attack helicopters, CH-46 Sea Knight helicopters, CH-53 Sea Stallion helicopters, and UH-1N Huey helicopters, sources said.
The Navy and Air Force have been asked to intensify patrolling along the Mumbai coast and its airspace during Obama's stay.
The city's airspace will be closed half-an-hour before the President's arrival for all aircraft barring those carrying the US delegation.
The President and First Lady Michelle will board a helicopter from the airport to INS Shikra, a naval air station and helicopter base, from where they will travel by road to Taj.
The Gateway of India sea front has been sanitised and all boats and ferry services from there have been suspended from November 5-8.
Get Breaking news, live coverage, and Latest News from India and around the world on NDTV.com. Catch all the Live TV action on NDTV 24x7 and NDTV India. Like us on Facebook or follow us on Twitter and Instagram for latest news and live news updates.