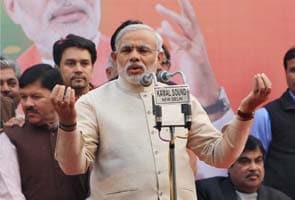 Bangalore:
The Bharatiya Janata Party is keen on cashing in on Narendra Modi's popularity, quite literally. With general elections now months away, the party has decided to hold a series of rallies across India where the attendees will be charged a token fee to listen in to its prime ministerial candidate.
It's Rs 10 for a Bangalore rally, scheduled next month. "Please don't say charging, it's a voluntary contribution. This is a good change for Indian politics," Karnataka BJP' state general secretary, Nirmal Kumar Surana, told NDTV.
The party has also decided to charge Rs 5 per head for a similar rally in Bhopal next week, but to be paid only by party workers. (
Read
)
While the party defends the trend of charging people for a rally as a novelty in Indian politics, it is aware of the controversy that a similar move had generated two months ago.
In July, the BJP decided to charge Rs 5 for a Narendra Modi rally in Hyderabad, calling it a paradigm shift in politics. The Congress took a jibe, calling it a reflection of Mr Modi's "market value." (
Read
)
The BJP rescinded the decision, instead calling the contribution a "delegate fee" to be paid voluntarily, with the money raised to be donated for relief and rehabilitation in Uttarakhand, ravaged by flash floods.
Keen to avoid another controversy, the BJP has a rationale ready for the Bangalore rally. Former state minister, R Ashok, says, "Last time in Hyderabad, they charged for Uttarakhand flood relief. In Karnataka, we are thinking of contributing to some organisation for public use."
Mr Modi's earlier rally in Bangalore ahead of the Karnataka assembly elections in May this year had generated a huge response. But that did not translate into votes for the BJP, which had ruled the state for five years. The party came a distant third while the Congress now governs the state.
That perhaps explains why the Karnataka Congress is not amused, calling the Rs 10-fee another gimmick. State Congress president, G Parameshwara, said, "We have seen these gimmicks. We are not the United States of America where you pay for a dinner and support that particular party."