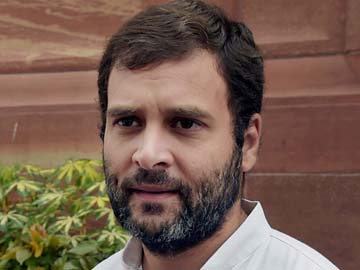 New Delhi:
Surprise, surprise. After more than two months of assessing the Congress' debacle in the national elections this year, the AK Antony Committee has concluded that Rahul Gandhi is not responsible for the crushing defeat. (
Also Read: Congress Unchanged. Gandhis' Offer to Resign Rejected
)
Neither does the committee find Congress president Sonia Gandhi or former Prime Minister Manmohan Singh responsible, veteran Congressman AK Antony said today.
Rahul Gandhi, 44, was the chief architect of the Congress' Lok Sabha campaign, which was criticised as lacklustre and low on energy compared to the electrifying campaign of the BJP's Narendra Modi. (
Just One Man's Voice Heard In Parliament, Says Rahul Gandhi
)
Results on May 16 this year validated that criticism - the Congress won only 44 seats in the 545-member Lok Sabha, by far its poorest performance yet. The BJP, along with its allies, won over 300. (
Also Read: Drastic Rise in Communal Violence Since BJP Took Power, Says Sonia Gandhi
)
Hours after it was clear that Mr Modi would be the next Prime Minster, Mr Gandhi seemed to take responsibility for the defeat in a brief statement, but his party immediately moved to shield him. Rahul Gandhi was in no way to blame, said many Congressmen.
The Antony report concurs. "Rahul Gandhi is not to be blamed for the Congress defeat...Such things are spread by mischievous people to weaken the party," Mr Antony said.
In the days since the defeat, Mr Gandhi, a three-term MP, defied his long record of sanguine parliamentary activity by joining other party colleagues in a protest in Parliament to demand an immediate debate on communal violence. The usually taciturn Mr Gandhi complained about not being allowed to speak in Parliament, but when the debate was finally held, he was not one of the Congress' speakers. (
Communal Violence Debate: Did it Backfire on the Congress?
)
The rival BJP credited Mr Gandhi's sudden enthusiasm in Parliament to a "palace coup" alluding to the reported demand among Congress leaders that his sister Priyanka Vadra now take over the reins of the party. (
After Rahul Gandhi's Jibe at Prime Minister, BJP Talks of 'Palace Coup'
)
"The reasons for the Congress defeat is something else. We will revive the party under the leadership of Sonia Gandhi and Rahul," said Mr Antony, not sharing details of the report he submitted to Mrs Gandhi yesterday. The panel, set up soon after the elections, has suggested "remedial measures" to lift the party out of the political low it finds itself at.