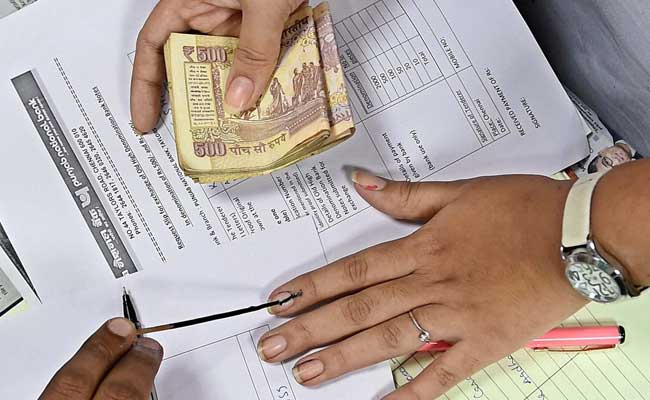 New Delhi:
Days before it becomes an offence to hold banned Rs 500 and Rs 1,000 currency notes, the finance ministry has told parliament that some of the people queuing up at the Reserve Bank are "ineligible" to deposit old notes. The facility is open only for Non-Resident Indians and those who were travelling abroad during November-December last year, the government said on Tuesday.
The Supreme Court last week expressed
displeasure at the government's defence that Prime Minister Narendra Modi's assurance to people in his televised address on November 8 -- that they would be able to deposit the old currency notes till March-end -- had been superseded by a last-minute ordinance that shut this window on December 31. The notes ban had sucked out 86 per cent of total currency value in the country.
Chief Justice JS Khehar had told Attorney General Mukul Rohatgi to take a call on demands that people with old notes be allowed to deposit them in line with PM Modi's announcement and file an affidavit well before the next hearing on April 11.
The judge had stressed the government couldn't "prejudge people's inability to deposit without giving them an opportunity." Among those who have been left holding their currency notes are
two orphans who recently wrote to PM Modi
to seek his help deposit Rs 96,000 left the police discovered in their house.
The ordinance made it a crime to hold more than 10 banned currency notes after the grace period for Indian nationals ends on 31 March, and for non-resident Indians on 30 June. There is no jail term for violators, but the law lays out a minimum fine of Rs 10,000 - or five times the seized amount.
In the Rajya Sabha, Minister of State for Finance Arjun Ram Meghwal was asked about the long queues at the central bank's counters.
Only its five offices in metro cities - Mumbai, Delhi, Chennai, Kolkata and Nagpur - are allowed to accept the old notes.
"Several people who are ineligible queuing up at RBI counters making the queue longer. As each application has to be checked at the counters for his/her absence from the country from passport stamp marks, it is taking considerable time for counter staff. It is compounded by the incomplete documentation," the minister said, in response to a question of harassment of NRIs.
The minister also added that there were "long queues" at Mumbai and Delhi offices "as large number of persons from the neighbouring states are turning up here".
Besides, he added, as the last date for deposit by residents - who were not in India during the period between November 08 and December 30, 2016 - "is approaching more and more persons are turning up".