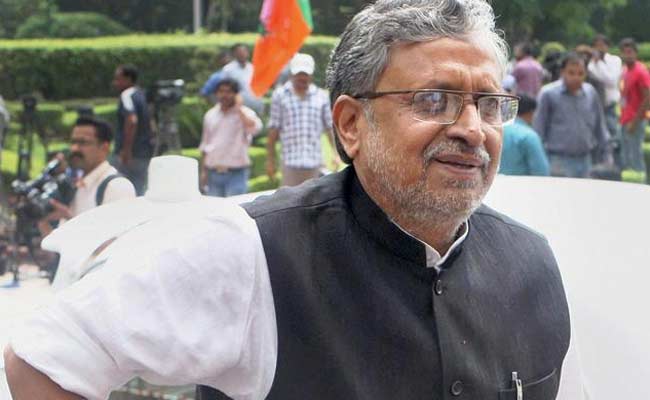 Patna:
The BJP on Wednesday claimed there is no scientific evidence to prove that floods occurred in Bihar due to Farakka Dam and alleged Chief Minister Nitish Kumar is raising the barrage issue and silt management policy to hide lacunae in providing relief to the marooned people.
"Senior officials of Water Resources Ministry in Delhi said there is no scientific evidence to prove that floods occurred in Bihar due to the Farakka Dam," senior BJP leader Sushil Kumar Modi said in a statement.
Mr Modi, who is in the national capital, said officials of the ministry told him this during an interaction.
"The fact is that the Bihar government had not made any preparation beforehand for relief and rehabilitation in the event of floods. The Chief Minister through confusing statements is trying to divert people's attention from this shortcoming," he alleged.
The BJP leader's statement came after Mr Kumar yesterday drew the attention of Prime Minister Narendra Modi blaming the floods in Bihar to silt deposition in the Ganga river due to Farraka Dam and demanded removal of the barrage.
Sushil Modi also contested Nitish Kumar's assertion that gates of Farakka Dam were opened for discharge of excess water of the Ganga river on request of the Bihar government.
"Fact is, during the monsoons all gates of the barrage are opened," the Leader of Opposition in state Legislative Council said.
"The Chief Minister who himself is an engineer by degree, instead of giving confusing statements, he should have waited for report of the WAPCOS study which the Bihar government has authorised to conduct on effects of Farakka barrage and silt deposit," he said.
In April, the Centre had constituted a committee under the Director of CWPRS (Central Water Power Research) to study siltation in the Ganga and the Brahmaputra rivers.
"Before advising demolition of Farakka Dam, Nitish Kumar should have asked his West Bengal counterpart Mamata Banerjee," Mr Modi said.
Farakka Dam was constructed in 1975 to divert water in the Hooghly river through a 38-km-long feeder canal to ensure smooth traffic of Kolkata Port, he said.