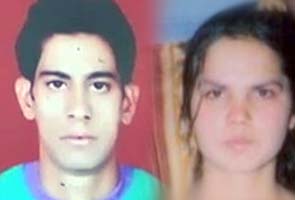 Rohtak:
Two days after a girl was lynched by her own family and a boy publicly beheaded, a conspiracy of silence is heavy in Haryana's village Gharnavati, 80 km from the capital.
As police personnel roam the village, no one is willing to testify against the girl's parents and uncle, who are now in jail. Her brother was arrested today.
"I have no regrets. I'll do it again if I have to," said Billu, the remorseless father of Nidhi Barak, 20, who was beaten to death. Seven members of Nidhi's family, who own a thriving dog-breeding business and even have a shop in south Delhi, allegedly took part in this shocking example of medieval-style killings in the name of 'family honour'.
The parents of Dharmender Barak, 23, have not even filed a police complaint against those who murdered their son - they say the pair got what they deserved. So do others in the village. "If my daughter did this, I would have killed her with my bare hands, no matter what happens to me," said Roshni, a villager.
Nidhi and Dharmender eloped on Tuesday, knowing their families would never consent to their relationship as they belonged to the same village, which, in those parts, means they are brother and sister.
On Wednesday, the young lovers returned to the village, convinced by Nidhi's family that they would not be harmed. (
Girl lynched by family, boy beheaded in Haryana village
)
At Nidhi's home, her father, brother and uncle allegedly killed her first.
Using farming tools, they allegedly broke Dharmender's arms and legs, stabbed him repeatedly and beheaded him. Dharmender's headless body was dumped outside his home. Inside, his family had refused to come out and help him.
"Can brother and sister marry? It is our duty to punish our children," Dharmender's brother says.
Dharmendra, who came from a family of poor farmers, and Nidhi had been together for three years and went to college in Rohtak. Nidhi was studying fine arts and Dharmender was pursuing a technical course.
When a police team alerted by a villager, arrived, Nidhi's family was trying to cremate her. The police retrieved the girl's half-burnt remains and the boy's body.
Several such young couples have been murdered in villages of Haryana bound by the diktats of lawless, but politically influential 'Khap panchayats' who forbid marriages within the same village or same caste.
In 2011, the Supreme Court had said those behind such killings should face the death penalty.