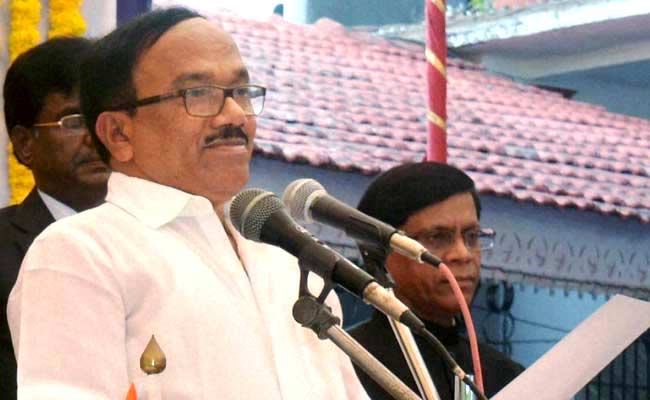 Panaji:
On the eve of his 60th birthday, Goa Chief Minister Laxmikant Parsekar ruled out retirement from politics, saying this was the "right time" he could use his experience.
"As a teacher I would have retired at 60, but in politics when you reach that age, the kind of experience you get at the end of life-long churning fills you with the different level of maturity," the teacher-turned-politician told PTI today.
After having such an experience, every minute of life counts, he said.
"This is the right time to use my experience," the Chief Minister of Goa, where Assembly polls are due next year, said when asked he if had any retirement plans.
Mr Parsekar said he would continue to serve people be it through politics or social work.
"In last few years, I had to neglect my educational institute. When the time comes for me to quit politics, I will be working for the people through my educational institute," said Mr Parsekar, who owns a school and a college at his native village in Mandrem constituency (North Goa).
The BJP leader, who took over the reigns from his predecessor and now Defence Minister Manohar Parrikar in 2014, said, "During my current tenure, I never spoke without thinking. I was not perfect in all the subjects but wherever I lacked knowledge, I have tried to understand the subject and took the decision."
Responding to a query, the chief minister said he had been dragged into unnecessary controversies by media which "misinterpreted" his comments.
"There are times when I speak 10 sentences but only one sentence is selectively picked up and controversy is created misinterpreting everything," he said.
Mr Parsekar had last month courted a row over his comments on Nigerians amid incidents of attack on people of African-origin in Delhi, saying people are angry in general with Nigerians because of their "different attitude".
Recently, RSS Goa unit chief Subhash Velingkar resigned from the committee formed to celebrate Mr Parsekar's birthday, saying the chief minister has "betrayed" Goans over the issue of the Medium of Instruction in schools.
Mr Parsekar was also in a spot over reinstatement of his graft-accused brother-in-law Dilip Malvankar, attached to Goa State Industrial Development Corporation.
He also dismissed reports that suggested he has been defending Malvanakar, who was arrested last year for allegedly accepting bribe for land allotment and reinstated subsequently.
"When there was allegation against my relative, I ordered his suspension. During suspension you get payment without any work. He has been taken (back) in service after nine months of his suspension. His reinstatement does not mean he is cleared of the charges by Anti Corruption Bureau," Mr Parsekar said.
He said there are "many instances" where suspensions are revoked after three or six months. "He (Malvankar) should not get advantage as my relative but he should also not be disadvantaged for that," Parsekar added.