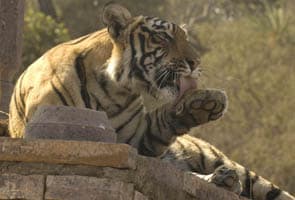 No loud New Year parties will be allowed around the Jim Corbett tiger reserve this year. The Uttarakhand Pollution Control Board has stepped in to curb the noise pollution caused by New Year celebrations happening in and around the sensitive zone. Officers are on high alert. Many resorts which had loud parties during Christmas may be fined.
There are 120 resorts around the wildlife park. Many of them are notorious for high-decibel parties and wedding functions.
This was an issue the NDTV-Aircel Save our Tigers campaign took to the Chief Minister Ramesh Pokhriyal.
Many resorts in the area which promote wildlife tourism have welcomed these steps.
Imram Khan, Manager, Jungle Jim's Resort said, "Bright light and loud music affect the animals. This has to be stopped."