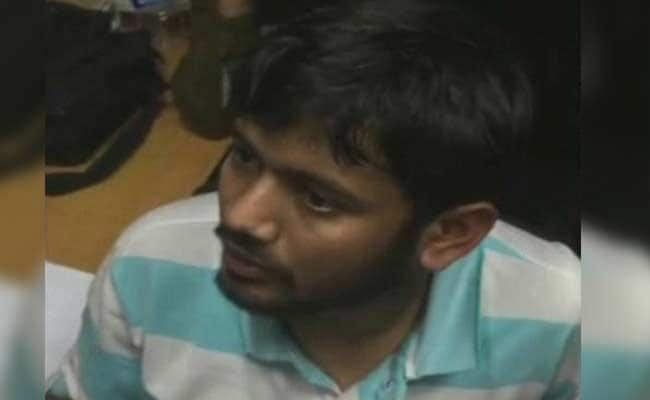 Highlights
Delhi govt inquiry clears Kanhaiya Kumar, Umar Khalid of sedition charges
No evidence proving Kumar, Khalid chanted anti-national slogans
Report seeks investigation on slogans by 'outsiders of Kashmir descent'
New Delhi:
A Delhi government report on JNU students being investigated for their alleged role in a controversial event where anti-India slogans were raised says "nothing adverse" could be found against Kanhaiya Kumar but Umar Khalid's role needs to be investigated.
The report also says three of the seven videos of the event, sent for forensic examination to a Hyderabad-based centre, were found to be doctored.
"Nothing adverse could be found against Kanhaiya Kumar. No witness or video available to me could support the allegation against him," district magistrate Sanjay Kumar, who inquired into the JNU case for the Delhi government, has said in his report.
Kanhaiya Kumar, Umar Khalid and four other students have been charged with sedition over an event at JNU or Jawaharlal Nehru University on February 9 to mark the anniversary of the hanging of Parliament attack convict Afzal Guru.
"Anti-national slogans were indeed raised on the JNU campus," the report says, but refers to "new faces" clearly heard shouting them. These persons need to be tracked down, the magistrate says.
Umar Khalid was "visible in many videos" and is heard urging "Kashmiris keep fighting, we are with you". The report says his views on Kashmir and Afzal are well-known and adds: "He was the organizer, his role needs to be investigated."
Two more students, Anirban Bhattacharya and Ashutosh, "possibly" raised slogans in support of Afzal Guru, the report says, quoting security staff of JNU.
The Delhi government inquiry also calls for an investigation into "outsiders of Kashmir descent" seen in the video, their faces covered, shouting anti-India slogans.
Kanhaiya Kumar, Umar Khalid and another student Anirban Bhattacharya were arrested last month.
Mr Kumar, 28, was granted bail yesterday but has been asked by the High Court to guarantee that he will not participate in any "anti-national activity" and has also been warned against "misinterpreting freedom of speech", which was likened by the judge to an "infection" that could cause gangrene.