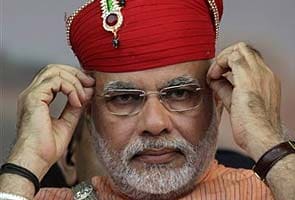 New Delhi:
The European Union recently ended its decade-long boycott of Narendra Modi, but the US has indicated that it will continue to deny the Gujarat Chief Minister a visa.
US Assistant Secretary of state Robert Blake told CNN-IBN today, "Our policy has not changed. Anyone can apply for a visa anytime, but we never prejudge the outcome of the decision... a lot of this will depend on some of the decisions that are made in the Indian courts and many of those decisions are still outstanding."
In December, a group of American lawmakers had urged the US Secretary of State Hillary Clinton to continue denying visa to the BJP leader, stating that his government had not adequately pursued justice for the 2002 Gujarat riot victims.
The Republican administration of George Bush had denied Mr Modi entry to America in 2005, saying he was ineligible for visa under a section that deals with violation of religious freedom.
Mr Modi has repeatedly said that the ban on a visa to him is moot as he has not sought to visit that country after 2005. His senior party colleague Arun Jaitley told NDTV today, "The US decision to not grant a visa to Modi makes absolutely no sense."
Last month, ambassadors of the European Union invited Mr Modi for lunch, three weeks after he won won a third straight assembly election in Gujarat. The ambassadors confirmed the meeting a month later, and German ambassador Michael Steiner, who hosted the lunch explained, "I have always said ... we will take a fresh look after the polls. That's what we did and part of it was to talk directly to Modi... we are now in a new phase."
Mr Modi, who has turned Gujarat into an investor-friendly state, is being considered by his party, the BJP, as its prime ministerial candidate for next year's national election. Repeated allegations that as chief minister, he didn't do enough to stop the 2002 riots loom over his ambitions for the country's top job.