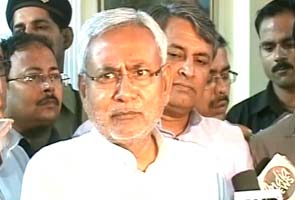 New Delhi:
In what could be some very good news for the Congress-led UPA coalition, a consensus seems to be fast developing around Union Finance Minister
Pranab Mukherjee
's candidature for President even from the Opposition. Sources have told NDTV that the Janata Dal(United), a key constituent of the BJP-led National Democratic Alliance (NDA), is inclined to favouring Mr Mukherjee as the next incumbent at Rashtrapati Bhavan.
The development is significant in that it came just hours ahead of a meeting of the core group of the Bharatiya Janata Party (BJP) to decide on its candidate for the presidential polls. Sources say that the BJP, which has so far adopted a wait-and-watch policy, might consider backing Mr Mukherjee, particularly since former president
APJ Abdul Kalam
, seen as a rival candidate, is reportedly unwilling to run against the Finance Minister. Hence, the JD(U)'s support for Mr Mukherjee could greatly influence a decision at the meeting of all allies of the NDA tomorrow where a final decision on the alliance's choice for the country's top post is expected.
The JD(U), which runs the government in Bihar in partnership with the BJP, is an influential ally. Sources say that even though the party maintains that a final decision of the presidential candidate will be taken only after the NDA meeting, it is hopeful that the allies would take note of and support its stand on the issue.
A strong indicator of the JD(U) warming up to the idea of Mr Mukherjee as President came this morning when senior JD(U) leader Shivanand Tiwari made a strong pitch for Mr Mukherjee. "Both the Samajwadi Party and the Bahujan Samaj Party have spoken in favour of his candidature for the post of President. It also seems that the Left parties of Bengal will also support Pranab Da's candidature. Majority is in support of Pranab Mukherjee. He is a senior leader, he has had a clean political career, everyone respects him. I feel he should be elected unopposed," Mr Tiwari had said. But his party chief Sharad Yadav, who is the Convenor of the NDA, hurriedly clarified saying that it was Mr Tiwari's personal view. "Tomorrow we have NDA meeting. We will decide everything in our meeting. We cannot comment on anything before our meeting. Commenting anything before meeting would not good," Mr Yadav said.
The JD(U) had earlier openly expressed its displeasure over the BJP unilaterally opposing the candidature of Hamid Ansari, currently the vice-president of the country. Senior BJP leader Sushma Swaraj had, in April, said that Mr Ansari did not have the stature to serve as president. But Bihar Chief Minister Nitish Kumar, who enjoys the confidence of the large Muslim population in the state, reportedly wanted to back Mr Ansari who belongs to the minority community.He had also backed Mr Mukherjee as a potential probable.